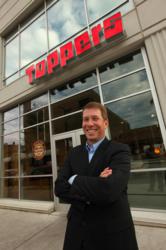 We're not one of those fly-by-night good ideas that sounds good on paper, but doesn't have the staying power to back it up.
Whitewater, WI (PRWEB) April 27, 2011
When Scott Gittrich, CEO and founder of Toppers Pizza, decided to rebel against big box pizza chains, he did so with a methodical vision to test and test again every aspect of his pizza-concept.
Starting off with the simple goal of recapturing the magic of a made-from-scratch pizza in a sea of cookie cutter chains, Gittrich laid the foundation for his vision. Nearly 20 years later, his Whitewater-based pizza brand is showcasing its growth potential, as it now comes armed with 28 locations and an incredible average unit volume ($967,776) plus average per unit net profit ($186,250).
"Every step we have taken as a company has been very well planned out," he said, noting his hiring of powerful executives such as Brett Larrabee (formerly Director of New York City Operations for Five Guys); Curtis White (formerly West Regional Director of Construction for Quiznos). "We wanted to perfect our vision before aggressively offering it outside of our bubble."
Showcasing Toppers' progression, the founder of "Fast Casual Delivered" launched its first regional franchise advertising push and new franchising website. Focusing its expansion in the upper Midwest, the brand's aggressive campaign will target top-tier, multi-unit/multi-brand franchisees with portfolios that include historic and proven franchise brands. These potential franchisees will receive a scratch-off surprise along with a brand identity book that details the Toppers story.
"We approached our franchise development campaign with the same creativity we market toward our customers: With edge," said Scott Iversen, Director of Advertising and Marketing.
Capitalizing on its strong customer loyalty and years of developing relationships in local markets, Toppers isn't just a hot concept — it has proven results.
"We're not one of those fly-by-night good ideas that sounds good on paper, but doesn't have the staying power to back it up," Gittrich said. "This thing works wherever we go — small town, metro, urban, campus, residential, you name it."
Toppers' 2011 footsteps are focused on its exponential growth plan to reach 100 restaurants by 2013 and 500 by 2020. The company already has 22 locations under contract to be built by 2013, with plans to open 11 in 2011, 26 in 2012 and 37 in 2013.
Among its already sealed growth is a multi-franchisee development deal in Minneapolis/St. Paul in which three different franchisees will open locations in the market this year – with a total of eight restaurants committed to open by the end of 2013.
The brand's easily scalable business model allows for rapid growth potential and enables franchisees to reach a hugely underserved market. By focusing on the "Fast Casual Delivered" segment, franchisees are able to build connections with their customers on a personal level and further enhance overall brand loyalty.
"Our numbers are proven and our model is perfected, however, in order for multi-unit franchisees to take us seriously, we wanted to ensure we offered industry top innovation and standards," Gittrich said. "These steps have already jump started the conversation, as our inquires have increased more than 500 percent and the traffic to our franchise site is up more than 1,000 percent over last year."
ABOUT TOPPERS: Ranked in Entrepreneur Magazine's top 500 franchises in 2011, Toppers Pizza, a 28-unit eclectic pizza delivery franchise brand, headquartered in Whitewater, WI, takes a unique approach to the crowded pizza segment by appealing to 18-34 year olds in an irreverent way that totally separates them from the competition. Toppers' menu includes 19 house pizzas; the franchise's signature product line Topperstix; Oven-Toasted Grinders; Buffalo Wings; Quesadillas; and cold drinks. The brand has strongly established itself in Wisconsin, and is now in the midst of Midwest and then national growth. By focusing on Toppers' demographic friendly markets, Toppers is able to continue its building of a fanatical relationship with its customer base. Toppers growth was celebrated in 2009 by Chain Store Age, an industry publication that measures quick service restaurant growth over the past five years, and ranked Toppers on their overachievers list of the Top 50 Fastest Growing Chain Restaurants in the United States. For more information on Toppers, visit http://www.toppers.com.
*The financial performance representations set forth below are for the one year period (53 weeks) commencing on December 29, 2008, and ending January 3, 2010, and are for nine independent franchise restaurants in Wisconsin and Minnesota and five Company-affiliated franchise restaurants in Wisconsin that were open the entire 53 weeks ended January 3, 2010. There were three franchise restaurants open in Minnesota and eighteen franchise restaurants open in Wisconsin during the entire one-year (53-week) period between December 29, 2008 and January 3, 2010. Fourteen of those twenty-one franchise restaurants are included in these representations. There were twenty-five franchise restaurants open in the entire System during the entire one-year (53-week) period between December 29, 2008 and January 3, 2010. Only fourteen of those restaurants (all of which are in Wisconsin or Minnesota) are included in these representations. A new franchisee's results may differ from represented performance. There is no assurance that you will do as well and must accept that risk. The offering is made by prospectus only."
####