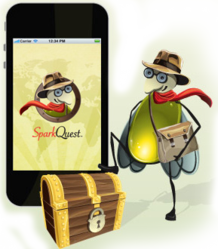 We realized consumers would burnout on one-hit, mass-marketed daily deals
Atlanta, GA (PRWEB) April 27, 2011
Atlanta-based Sparkfly recently secured $2.5 million in institutional capital for its mobile engagement platform, SparkQuest—one of the newest players in the fast-evolving location-based marketing space.
SparkQuest's patented mobile engagement platform connects consumer deal redemption with merchant point-of-sale (POS) technology. It is the only mobile engagement platform in the nation that makes it possible for businesses to know each consumer's individual preferences and purchase behaviors.
This capability enables consumers to get instant and repeat rewards at the merchants they frequent most; more options and greater merchant variety; and experiences that are tailored to their personal interests. SparkQuest calls this experience "everyday meaningful."
"Almost as soon as location-based marketing surfaced, we realized consumers would burnout on one-hit, mass-marketed daily deals," said Catherine Tabor, founder and CEO, Sparkfly. "We're currently connected with the most widely-used POS systems across all industries, so we're able to provide promotions and experiences that are everyday meaningful to the individual consumer."
SparkQuest also features interactive, game-like Quests that are connected to merchant deals and rewards and allow consumers to engage with their friends and social networks.
The technology platform that is required to connect consumers and merchants at the point of sale is complex. SparkQuest has dedicated several years to developing the technology that fills this gap. Tabor is more than aware of the significance of the feat, and has backed the technology with a portfolio of more than 20 issued patents.
In the first six weeks of SparkQuest's Atlanta market launch, more than 100 merchants lined up to be the first to engage consumers through the platform, and the company is accelerating rapidly to add hundreds more. The company has attracted the interest of large retailers and consumer goods companies, which have struggled to effectively engage in location-based marketing prior to now.
About the SparkQuest Platform
Research shows consumers are already poised for the next generation mobile engagement platform. A recent Microsoft Bing survey revealed 74 percent of survey respondents search multiple coupon sources each week, and a quarter of respondents claimed to spend up to an hour sifting through possible deals.
SparkQuest believes this signifies a possible "deal overload" trend among consumers, and a call for a new normal in how marketers and merchants approach mobile deals and location-based marketing. The new SparkQuest platform addresses the key consumer frustrations:

Each individual consumer can get preferred treatment. Members get repeat rewards and special promotions at the businesses they frequent most. That means, more of their favorite places, attractions, hobbies and products.
Consumers get more options. SparkQuest is the only platform that makes it possible for merchants to know exactly what consumers like and to offer more types of consumer deals. As a result, SparkQuest gets more merchants in its network, and consumers get more options to choose from—more merchants and greater variety of offers.
It's more than deals. SparkQuest gives members the chance to participate in interactive game-like Quests—connecting with their friends and engaging with their favorite experiences based on shared interests. The best news is the Quests are also connected to deals and rewards.
The end of irrelevant clutter. These everyday meaningful deals have more individual relevance for consumers and are based on what consumers' behaviors say to businesses. That means no more one-hit, now or never deals. No more mass emails with irrelevant, "who would want this" deals. And, no more annoying "jump through the hoops to get the reward" deals.
By connecting consumer behavior and deal redemption with the point of sale, SparkQuest delivers on all of these key priorities and enables consumers to build meaningful relationships with the businesses and experiences they enjoy most.
For more information about SparkQuest, visit http://www.sparkquest.com.
About Sparkfly
Founded in 2001 and headquartered in Atlanta, Georgia, Sparkfly is a leading provider of offer redemption and tracking technology. Sparkfly's patented offer redemption platform tracks consumer purchases in real-time at the point-of-sale, helping merchants acquire new customers and increase repeat visits through personalized offers that influence purchase behavior. Sparkfly's platform is the missing ingredient that enables merchants and brands to capitalize on mobile, social and local marketing. To learn more about Sparkfly, visit http://www.sparkfly.com or email info(at)sparkfly(dot)com. For more information on SparkQuest, visit http://www.sparkquest.com.
###