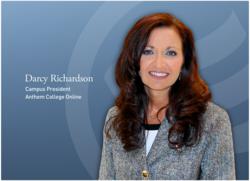 "Darcy Richardson brings experience with just about every aspect of online education administration."

--Dr. Jim Hutton, Chancellor, Anthem Education Group
Phoenix, AZ (PRWEB) April 27, 2011
Anthem Education Group announces the appointment of Darcy Richardson to be Division President for Anthem College Online.
Previously, Richardson served as the Administrative Director of Operations for the online college, which awards Associate of Science and Bachelor of Science degrees in seven programs. Before joining Anthem College Online in 2009, Richardson held positions with the Online divisions of Daymar College and Davenport University, including Division President, Director of Online Operations and Director of Online Admissions and Student Services.
"Darcy Richardson brings us experience with just about every aspect of online education administration," says Anthem Education Group Chancellor Dr. Jim Hutton. "From admissions to student services to operations, she has firsthand experience with the details of directing, expanding and improving post-secondary online education."
Richardson holds a BBA from Davenport University and is pursuing an MBA from Morehead State University.
Anthem College Online was founded in 2002 to provide an additional option to students pursuing post-secondary education. Its programs include Accounting, Business Management, Criminal Justice, Healthcare Management, Medical Assistant degree completion, Medical Billing & Coding, and Paralegal.
About Anthem College Online
Established in 2002, Anthem College Online is part of Anthem Education Group (AEG), a Phoenix, Arizona-based family of schools and colleges that provides career-focused training and education programs at 23 accredited institutions in 15 states as well as online. The AEG family of schools includes Anthem College, Anthem College Online, Anthem Career College, Anthem Institute, Morrison University, and The Bryman School of Arizona. For more information, visit http://anthem.edu.
###