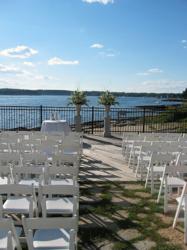 "Retro Modern… idyllic location … luxury facilities."
-- The Knot
Boothbay Harbor, ME (PRWEB) April 28, 2011
A cool blue sapphire surrounded by sparkling diamonds that his mother treasured. The venue, steeped in history, where his grandmother was wed. Family and special guests gathering from around the globe.
The Royal Wedding?
No, another fairytale wedding at Spruce Point Inn on the ocean in Boothbay Harbor, Maine.
The Knot rates Spruce Point Inn as one of their five recommended destination wedding locations in the State of Maine. They called it "Retro Modern… [an] idyllic location … [with] luxury facilities." Guest comments about weddings, anniversary celebrations and vow renewal ceremonies at the Inn paint a truly romantic picture of couples making memories to last. Watching a YouTube video of a bride and groom's first dance (clearly well-rehearsed) on the parquet dance floor in the Inn's Linekin Bay Room, it is clear that Spruce Point Inn is the place where a Maine oceanside resort wedding is made of long summer evenings, romantic walks along the shore and misty mornings in the spruces giving way to sun-drenched afternoons under shady market umbrellas. Martha Stewart Living said, "We wanted to share the incredible views, the ocean, the incredible beauty that never changes."
Facilities at Spruce Point Inn can accommodate gatherings of groups ranging from 14 to 400 people. The Inn's professional event planners are known nationally for their ability to coordinate the most intimate and secure retreats, large family gatherings and another word seaside weddings that feature a mix of off-site activities (accessible via the Inn's shuttle and waterborne launch) and creative use of the Inn's 57 acre landscaped grounds, recreation and Spa put to best advantage.
With over 5,000 square feet of spectacular oceanfront wedding space, including tented decks, the Inn offers one of the most distinctive destination wedding venues in all of New England for exclusive events. The wedding party might arrive at the ceremony aboard an antique yacht. The historic inn provides one venue for the ceremony while the tented waterfront or cathedral ceiling ballroom (with the illuminated Maine woods as a backdrop) provide romantic memories for the reception.
The Inn's wedding facilities include:
The Pemaquid, a 4,500 square foot state-of-the-art facility, with adjacent 4,000squarefoot tented courtyard and can accommodate up to 280 guests. The upper level allows for a dramatic entry by the bride to her reception.
The Linekin Bay , covering 2,100 square feet, features cathedral ceilings and is decorated in an elegant New England style. Fully air-conditioned and ADA accessible, the room is adjacent to a beautifully landscaped and tented courtyard that offers an alternative space for the ceremony, reception, rehearsal dinner or bridal brunch.
The Oceanfront Deck offers a sweeping view of the ocean and can be used as an open-air deck or with its heated custom-built tent. The 3,200-square-foot deck features a bandstand with a gazebo facing the water and its own cooking facility, ideal for lobster bakes or al fresco dining.
The Oceanside Pool Deck is a, offering direct access to the Inn's dock. The deck is a tentable space that can accommodate banquets of up to 75 guests and receptions for groups of up to 150.
For specific wedding inquiries contact Cindy Mastrella at 207-633-4152 ext 628.
About Spruce Point Inn
In operation for more than 100 years, Spruce Point Inn is a distinctive and historic vacation destination for travelers from all over the United States. Its relaxing facilities have long been a part of the summer community and a backdrop for delightful "oceanside memories made in Maine." Located in the seafaring village of Boothbay Harbor, Maine (an hour north of Portland) and situated on 57 acres of stunning oceanfront and sheltering pine forest, the Inn is a retreat of 56 modern rooms in eight lodges, 16 classic cottages and rooms, 9 historic inn rooms and 4 townhomes. The convenient location, peaceful setting and spectacular coastal views have made the Inn a premier resort for families, reunions, weddings and business events. For reservations, call 800-553-0289 or visit http://www.sprucepointinn.com.
###