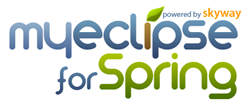 Flower Mound, Texas (PRWEB) April 28, 2011
Genuitec and Skyway Software, today announced the first boot camp-styled webinar for MyEclipse for Spring 9.0 (ME4S) developers who need to learn best practices while using the richest set of Spring development tools on the market.
Who: Genuitec and Skyway Software
What: Boot camp for users of ME4S 9.0
When: Tuesday, May 3 at 12:00 P.M. EDT (16:00 UTC)
Register here: https://www2.gotomeeting.com/register/614884090
The first webinar is to demonstrate the most effective and powerful use-case scenarios with the ME4S 9.0 IDE; the agenda for this hour long session is as follows:
1. Spring Tools: Spring-specific add-ons for Eclipse, including bean wizards, configuration editors, content assist, re-factoring support and more
2. Integrated Spring Development Sandbox: Preconfigured, ready-to-go Apache Tomcat application server and Apache Derby database
3. Code Generation: Extensive code generation functions for creating software components (or even ready-to-run applications) for the following technologies: Spring MVC, Spring Web Flow, Spring Security, REST, JAX-WS, Adobe Flex, Google Web Toolkit (GWT), iPhone w/ iWebKit, JPA, DAO and JSF 2.0/Primefaces
4. Spring Project Bootstrapping: Initialization of a Spring project with all required dependencies and libraries for both native Eclipse and Maven-based projects
5. Annotation Editors: Companions to the Eclipse Java Editor that provided quick access to annotation references and use cases
ME4S is priced at US $99 (for a limited time) for fully-supported annual subscriptions and includes free access to MyEclipse for Spring STS Edition, a plug-in to STS (SpringSource Tool Suite): http://www.myeclipseide.com/me4s
About MyEclipse
Developers worldwide choose MyEclipse because it is the most affordable and comprehensive J2EE IDE and Web development tool suite for the Eclipse open-source platform. MyEclipse is the Eclipse plugin-based solution for all your UML, Ajax, Web, Web Services, J2EE, JSP, XML, Struts, JSF, Java Persistence, EJB, extended database support and application server integration needs.
About Skyway Software
Skyway Software provides IT organizations with technology that simplifies their software delivery process - often times reducing Java EE application development and deployment schedules by 30 percent or more. Some of the world's largest enterprises rely on Skyway's SpringSource-certified code generation capabilities to facilitate development and deployment of Spring-based solutions. Founded in 2001, Skyway Software is headquartered in Tampa. For more information, call +1 (813) 288-9355 or visit http://www.skywaysoftware.com.
About Genuitec
Genuitec, LLC, is an Eclipse-based company offering innovative Java and J2EE development tools. Genuitec offers training and expert consulting and development services for the Eclipse SDK and Rich Client Platforms. An original sponsor of Eclipse Plug-in Central, Genuitec joined the Eclipse Foundation early in 2003 and is currently supporting Eclipse as a strategic member on the Foundation's board of directors. Genuitec LLC was founded in 1997 and is headquartered in Flower Mound, Texas.
Genuitec, Pulse, PoweredByPulse, MobiOne and MyEclipse are trademarks of Genuitec, LLC. SpringSource, Spring Roo and corresponding brands are trademarks of SpringSource, a division of VMware. All other brand or product names may be trademarks or registered trademarks of their respective companies and should be treated as such.
*Please follow Genuitec's latest news by joining "MyEclipse" on Facebook and on Twitter @myeclipseide
###