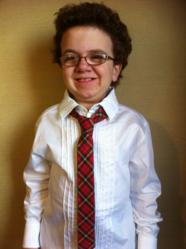 His YouTube channel now has more than 360,000 adoring fans, ranking him the 27th highest subscribed music artist.
New York, NY (PRWEB) April 28, 2011
Internet sensation Keenan Cahill has signed with Krupp Kommunications ("K2"), a full-service public relations, marketing and branding agency for personal media representation. He will be part of the growing Entertainment division at the agency, joining clients including Bret Michaels and Boyz II Men.
Cahill, 16, has achieved worldwide celebrity status with a series of hugely entertaining self-produced videos of himself lip-syncing the hottest Top-40 hits. His cover of Katy Perry's "Teenage Dream" first threw him into the spotlight. The video went from 600,000 views to 3-million in the span of a single week following a Twitter post by Katy Perry herself. There have been more than 36 million views of this video overall.
In less than one year, Cahill has suddenly found himself in the midst of a whirlwind of media attention and his YouTube channel now has more than 360,000 adoring fans, ranking him the 27th highest subscribed music artist.
Many of today's biggest superstars have sought out Cahill – with cameo's including 50 Cent for "Down On Me" circulating over 29 million views, David Guetta's Mega-Mix with over 17 million views and DJ Pauly D in "Beat Dat Beat" with over 4 million views. He has also appeared in viral campaigns for the SF Giants, NY Knicks, Smartwater (starring Jennifer Aniston) and Wrigley Gum (with Serenading Unicorn). Cahill's latest video, just released Tuesday is with hip-hop superstar, Lil Jon.
Cahill has was diagnosed at the age of one with Mucopolysaccharidosis (MPS Type 6) a rare genetic disease that leads to severe disability and a shortened life span in virtually all cases. There are less than 1,100 people worldwide who have the disease. But this has not held him back from attending school in his Chicago hometown or with spending time with his fan base of over 360,000 subscribers
"All of us at K2 have been fans of Keenan's since we first saw his videos on YouTube. We're thrilled that we are now working with Keenan to share more of his story and his talent with everyone throughout the United States and the world," stated K2 CEO Heidi Krupp. "We hope that any and all publicity gained will aid him in building awareness for his battle with MPS 6, leading to a possible cure or new treatments."
About Krupp Kommunications, Inc.
Established in 1996, Krupp Kommunications (K2) is an award winning integrated public relations, branding, media and marketing agency specializing in brand development for lifestyle, entertainment, and publishing properties. K2 works with clients to create customized, strategic campaigns that deliver extraordinary results. K2's mission is to build brands that enrich lives by working with individuals and organizations who improve the world around them. For more information, please visit http://www.kruppkommunications.com.
###