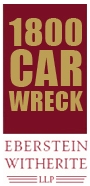 Dallas Car Wreck Lawyers of 1800-Car-Wreck are urging both students and parents to take responsibility for safe driving not only during Prom but all year round.
Dallas, TX (PRWEB) April 27, 2011
Proms are taking place at high schools across the Dallas/DFW area and the Dallas Car Wreck Lawyers of 1800-Car-Wreck are urging both students and parents to take responsibility for safe driving. Prom season is the one time of the year when students can dress up, socialize and dance the night away with all their friends from school. Although this is a joyous time for so many students, it is also a very dangerous time for those behind the wheel states the Dallas Car Wreck Attorney – Amy Witherite.
Prom and graduation normally occur between the months of April to June each year. It is no surprise that this is the most dangerous few months for teenagers due to the high intake of alcohol that occurs. Dallas Car Wreck Lawyers at 1800-Car-Wreck explain that 33% of alcohol-related traffic fatalities are taking place during those few months of the year.
Besides the most logical answer of eliminating underage drinking, what can be done to minimize the chance that a teenager will take part in these dangerous trends?
Dallas Car Wreck Lawyers explain the importance of locking in who is driving on prom night. Many parents will choose to personally drop off and pick up their teen from the prom to ensure that he or she is not getting in an unsafe vehicle. Although this may not be the most popular choice with the teens, it does offer peace of mind for the parent and is highly recommended by the Dallas Car Wreck Attorneys. It becomes dangerous if a plan is not set for an adult to drop off and pick up the students, especially if they will be attend prom from a pre-party or heading to an after-party when the dance is over.
It is also important to maintain open lines of communication with a teenager about that night. Thankfully, report the Dallas Car Wreck Lawyers, many schools are beginning to take stronger measures to prevent teen drinking and driving on prom night as well. The week before prom, educational assemblies and presentations with guest speakers may take place to warn students of the dangers associated with becoming intoxicated. Some schools have also resorted to using breathalyzers. By using these handy devices, chaperones and staff can check each student's blood alcohol content before they enter and exit the prom. If anyone has been drinking, they will be prevented from entering the prom or leaving the prom until a guardian can come and pick them up state the Dallas Car Wreck Lawyers.
There are measures that can and need to be taken immediately to prevent the increase in alcohol related teen fatalities during prom season. Although it may not be able to stop underage drinking and driving completely, the Dallas Injury Accident Lawyers at 1800-Car-Wreck know it can be reduced with proper efforts from parents, teens and school staff members.
###