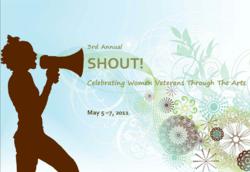 "SHOUT is an opportunity to engage with and remind women veterans that peer support is unique, it is critical, and in my case, it helped me find my footing," said Staryln Lara, Swords to Plowshares' Women Veteran Coordinator (U.S. Army, 1995-2007)
San Francisco, CA (PRWEB) April 27, 2011
The veteran's rights organization Swords to Plowshares is hosting its third annual arts festival to honor women veterans. The event, SHOUT! Celebrating Women Veterans through the Arts is a unique three-day event designed to raise awareness about the experiences of women veterans, engage the veteran community and explore the intersections of art, community and healing (http://www.shoutforwomenvets.org).
"It is critical to foster awareness of the individual sacrifices made by women service members. Through these unique events, we hope to provide an opportunity for the community to show support and appreciation for women who served and bring attention to the issues women veterans face," said Michael Blecker, Executive Director of Swords to Plowshares.
The events kick off with a special 'Day of Beauty' for a group of local women veterans who are working to heal from the wounds of war prior to the evening's celebration. The opening event on May 5th will feature a film screening at the San Francisco Museum of Modern Art, followed by an art exhibition of art by and for women veterans on May 6th and ending with a day of free healing arts workshops on May 7th.
"It is difficult to find opportunities where women veterans can come together to network and support one another in a veteran-centered community. SHOUT provides a unique chance for women veterans like me to connect with, celebrate and honor the women who served our country," said Starlyn Lara, Swords to Plowshares' Women Veteran Coordinator.
WHO: Women veterans, their families, community supporters and local organizations dedicated to helping those who serve make the transition from military service.

Coordinated by Swords to Plowshares, San Francisco-based veteran service and advocacy organization
In partnership with the California Pacific Medical Center Institute for Health & Healing and the San Francisco Museum of Modern Art
Hosted by the San Francisco Museum of Modern Art ,Hilliard Architects & Gallery and the American Legion Bob Basker Post 315
Chaired by Linda Mayne, artist, community leader and CEO of Mayne & Company Real Estate.
WHAT: SHOUT! is an annual event in its third year that intends to reach out to women veterans, educate the community about their needs and the issues, and highlight art by, about, or for women veterans.
WHY: Art is a great opportunity for expression and healing. Women are a growing population in the military, but are still a marginalized one with needs different than their male counterparts. SHOUT is a way to raise awareness about the issues women veterans face.
WHERE/WHEN:
Film Screening and Reception at the SFMOMA
Thursday, May 5; 7 pm (VIP reception begins at 6 pm)
SFMOMA Phyllis Wattis Theater; 151 Third Street, San Francisco
Art Exhibition By and for Women Veterans
Friday, May 6; 5-8 pm
Hilliard Architects & Gallery; 251 Post Street #620, San Francisco
Healing Arts Workshops for Women Veterans
Saturday, May 7; 11 am –4 pm
War Memorial Building ; 401 Van Ness Avenue 2nd Floor, San Francisco
War causes wounds and suffering that last beyond the battlefield. Our mission is to heal the wounds, to restore dignity, hope, and self-sufficiency to all veterans in need, and to reduce homelessness and poverty among veterans. Learn more about the work of Swords to Plowshares, and ways in which you can help, by visiting our website at http://www.stp-sf.org.
###