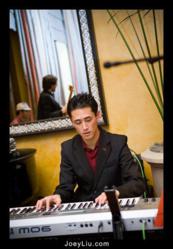 The group's June 10th performance will give customers a rare opportunity to catch their flagship lineup and the ability to listen to the group's original songs that have never been heard before
Burlingame, CA (Vocus/PRWEB) April 27, 2011
Bassment, a San Francisco-based band, will be performing live at the Gordon Biersch Brewery Restaurant in San Jose on Friday, June 10 from 8 to 11 p.m. The restaurant, located at 33 E. San Fernando Street is the place to go to for customers wanting to experience a night of great music.
Organist Kevin Wong created this band largely due to his appreciation for funk band Soulive. Like Soulive, Kevin plays bass lines with his left hand while simultaneously playing chords, melodies, and solos with his right hand. "While there is no substitute for a real bass guitarist, the absence of one allows us to take the music anywhere we want to. Our goal is to take our audience on a journey with us."
BASSment features the multi-talented left-handed bassist and organist Kevin Wong, the incredible Nate Mercereau on guitar, drummer extraordinaire Dante McClinton on drums, and saxophonist Daniel Casares. This group's June 10th performance will give customers a rare opportunity to catch their flagship lineup and the ability to listen to the group's original songs that have never been heard before.
Admission is free, so customers can have dinner while enjoying BASSment's music. For those who want to purhcase a copy of the group's music, DVDs and CDs are now available.
For more information BASSment's San Jose show or to inquire about bookings or other questions, call (650) 353-7972 or visit their website at http://www.bassmentmusic.com. You can also view their online EPK at: http://www.sonicbids.com/BASSment.
About BASSment
One of the most unique and versatile bands to come out of the Bay Area in recent years, BASSment combines jazz, blues, funk, soul, and everything in between to create a tasteful melange of musical chemistry. Known for their amazing talent and energy, BASSment performs in various lineups from an organ trio to a full 8-piece band.
###