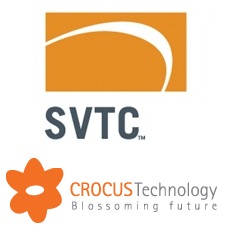 Thanks to SVTC, Crocus Technology successfully developed and transferred one of the industries' first MRAM processes to a production foundry
San Jose, CA (PRWEB) April 27, 2011
Crocus Technology, the leading provider of Magnetic Random Access Memory (MRAM) products and technologies, and SVTC Technologies, a first-of-its-kind, proven technology development facility, today announced the successful development and transfer to volume production of 2nd generation MRAM products, accelerating development and time to market.
Crocus' revolutionary MRAM technology allows full scalability to advanced lithography nodes at 90nm, 65nm and smaller, and exhibits high speed, reliability, and reduced power consumption for a wide variety of telecommunications, networking, computing and handheld applications currently using SRAM and/or flash memory technology. With these industry changing advances in technology taking place, it is imperative to have solutions that are not only leading edge, but flexible, scalable, and complete with industry-leading support and service.
"Thanks to SVTC, Crocus Technology successfully developed and transferred one of the industries' first MRAM processes to a production foundry," said Dr. Bertrand Cambou, Executive Chairman of Crocus Technology. "SVTC's production ready tools, metrology and infrastructure combined with a proven methodology for developing a repeatable process ready for production, enabled a rapid and successful transfer to the production foundry."
By leveraging SVTC's comprehensive IP secure services, including state-of-the-art 24/7 development facilities and highly skilled engineering team, Crocus Technology reduced development time, manufacturing costs and risk while speeding time to market. SVTC worked collaboratively with Crocus Technology enabling them to rapidly transform their novel semiconductor ideas into volume production. By selecting SVTC as its partner, Crocus Technology had access to a full range of services that were custom tailored to their requirements and maintained complete IP independence and control of their development process.
"SVTC congratulates Crocus Technology on the successful development and transfer of their 2nd generation MRAM technology. We are pleased that our fab development infrastructure and process transfer expertise could help enable such an exciting technology," said Bert Bruggeman, CEO of SVTC. "We look forward to continuing our relationship with Crocus Technology and helping their team to bring this exciting new MRAM technology to market."
About Crocus Technology
Crocus is a leading developer of MRAM technology for dense, non-volatile, high-speed, scalable memories. The company's MRAM innovation originated in the Grenoble-based Spintec laboratory, a world-leading R&D center in Spintronics, affiliated with French national laboratories CEA and CNRS. The company will offer discrete, high density MRAM chips that target a wide variety of telecommunication, networking, storage, computing and handheld applications. The company also licenses its technology for both standalone and embedded chip applications. Crocus' MRAM technology is covered by a comprehensive patent portfolio. Find Crocus at: http://www.crocustechnology.com.
About SVTC
SVTC Technologies provides development and commercialization services for innovative semiconductor process-based technologies and products, cost-effectively and in an IP-secure manner. Through facilities in San Jose, California and Austin, Texas, SVTC serves customers in rapidly growing markets such as MEMS, microfluidics, high voltage, and TSV that are used in a wide array of industries such as life science, semiconductor fabrication, aerospace and defense, consumer-mobility and clean energy. SVTC offers a suite of leading-edge equipment and services, including full-scale 8-inch and 12-inch process capabilities, advanced CMOS and non-CMOS equipment, analytical services, development support tools and commercialization services. SVTC is ISO9001, ISO 13485 and ITAR registered. SVTC's investors include Oak Hill Capital Partners, Tallwood Venture Capital and the company's management and employees. SVTC is an equal opportunity employer. More information can be found at: http://www.svtc.com.
# # #