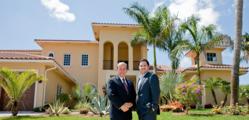 "Real estate truly fuels our economy," DeFalco says. "But it is the only industry without a true, accurate, and objective marketing and pricing system—that is, until now!"
Boca Raton, FL (PRWEB) April 28, 2011
At the real estate firm based in Boca Raton Florida, founder Fred DeFalco and CEO Manny Gutierrez are providing strategic solutions for serious sellers in a sluggish market.
DeFalco Real Estate Group prides itself on being more than a brokerage. As auctioneers and consultants, they are highly skilled and experienced Real Estate Strategists. "All real estate is individual and unique. Every transaction demands a proper strategy, and for sellers wanting to obtain the highest possible price in a predetermined timeframe, that strategy is crucial," says DeFalco.
According to Gutierrez, "Our strategy is never confrontational; we always represent the facts in each transaction and provide a channel for a smooth transaction among all parties within 30 to 60 days." The marketing approach to every situation is based on an exhaustive and in-depth analysis. Gutierrez continues, "Our approach to real estate marketing is controlling the effects of the market response rather than reacting to a failure of a market response."
The right strategies recently produced a buyer for an East Boca Raton estate home that started at $3,001 and sold for $3,950,000 within 75 days. Last week a Lake Worth home the firm was hired to market went under contract in 50 days. Currently, DeFalco and Gutierrez are marketing a 10,000-square-foot mansion in the beautiful community of Bocaire Country Club. Using an Open Bid Auction method for 30 days with a starting bid of $500,000, DeFalco is quick to point out that "strategy without tactics is doomed to fail." In Bocaire Country Club, the strategy was combined with the right tactics, and within the first 12 days it has already generated over 9,000 inquiries, more than 30 showings, and numerous qualified bids.
According to DeFalco, in his local market, more than 10,000 properties a year, go unsold and are cancelled from Multiple Listing Services. "This scenario doesn't occur with Public Pricing™ strategies," he says.
Using these concepts, DeFalco has successfully sold new homes, country club homes, luxury estates, commercial property, and land. "Real estate truly fuels our economy," DeFalco says. "But it is the only industry without a true, accurate, and objective marketing and pricing system—that is, until now!"
To visit DeFalco Real Estate Group, see http://www.defalco.com or call 561-922-9727.
###