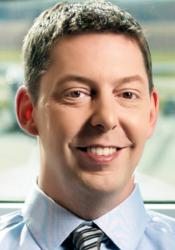 Redwood City, CA (PRWEB) April 28, 2011
Kabam™, a leading developer of massively multiplayer social games (MMSGs) including Kingdoms of Camelot®, which was voted IGN Reader's Choice Facebook Game of 2010, Dragons of Atlantis™ and Glory of Rome™, today announced it hired human resources executive Derek Sidebottom, formerly VP of HR with Electronic Arts, as Chief People Officer. As CPO, Sidebottom will oversee human resource efforts for Kabam's worldwide operations. Kabam grew from 25 to over 200 employees last year while adding new studios in the San Francisco, Beijing and Luxembourg. The company expects to more than double its size in 2011, and continues to hire top-tier talent to sustain its rapid growth while building on its successful game franchises.
"As Chief People Officer, Derek's expertise in growing global technology companies will be vital to our continued successful expansion," said Kabam CEO Kevin Chou. "His experience in gaming and technology is a perfect fit for Kabam, and he will be instrumental in building a strong employee experience that attracts, rewards, and retains top talent globally."
With fourteen years experience in technology, Sidebottom is well versed in global workforce management and strategy, including planning, analytics, building and developing teams, and designing and deploying total rewards systems. Before joining Kabam, he was VP of Human Resources with Electronic Arts, overseeing international HR operations at BioWare & EA SPORTS. Under his HR leadership, in 2008 BioWare was recognized as a "Financial Post Top 10 Best Companies to Work For" and Top 100 National Employer. Previously, Sidebottom was Director, HR Global Programs for Corel Corporation, and Sr. Compensation & Benefits Advisor at Alcatel/Lucent. After starting his career in Human Resources at Telesat, he was a Research Associate at The Conference Board.
"Kabam is a very exciting company that has identified and secured a leadership position in a growing segment of the games business, free-to-play massively multiplayer social games" said Sidebottom. "The company has a very advanced vision for the future of gaming, as evidenced by how its 'frictionless model' is a leading factor in disrupting traditional game development and distribution. I'm delighted to join the team at this stage and help Kabam realize its full business potential while retaining our open, empowering company culture."
A graduate of the University of Ottawa where he received a BA in Psychology, Sidebottom earned a graduate diploma in Human Resources with honors from Humber College before receiving his Executive MBA at Athabasca University. He was awarded a Queen Elizabeth II Scholarship for his MBA studies.
For more information on Kabam, visit our official site at http://www.kabam.com, and also our Facebook page at http://www.facebook.com/kabam.
About Kabam
Kabam is leading the next wave in social gaming by developing and publishing massively multiplayer social games (MMSGs). The company's studios focus on combining the best elements of traditional and social gaming to appeal to a growing audience of gamers looking for deeper, more engaging social games. The first wave of Kabam's new games for Facebook and leading media sites, including IGN Reader's Choice Facebook Game of 2010 Kingdoms of Camelot, have been widely recognized for their depth of play and social interaction. Founded in 2006, Kabam has offices in San Francisco and Redwood City, Calif., Beijing, China and Luxembourg. More information about Kabam can be found at http://www.kabam.com.
All trademarks or registered trademarks are property of their respective owners.
CONTACT:
Anne Marie Stein
ONE PR Studio (for Kabam)
510-893-3271
annemarie(at)oneprstudio(dot)com
###