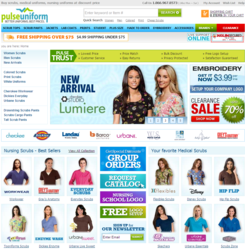 While the changes promises customers of better shopping experience, it has never changed some previous perks that Pulse Uniform has been known to be offering.
Woodstock, GA (PRWEB) April 28, 2011
Roughly 4 months after a redesign at the beginning of the year, Pulse Uniform renovates its website again with an easy shopping and navigation layout. This was done after some consultations with in-house web designers and constant brainstorming with its customers. One of the changes that can be observed is the concise side bar that has all the links going to specific nursing scrubs category pages like gender, styles, brands and sizes. To amplify the graphical side of the page, Pulse Uniform employed colorful images, logos and fonts balanced across the site page. Noticeably too was the Brands button found at the upper right part of the website that was changed to a drop down feature for easy access to branded products like Dickies scrubs. Right at the center of the page, a revitalized search tab has been incorporated with quick search feature for fast site and product exploration. To top the changes, new pages have been introduced.
With heavy recommendations from customers, Pulse Uniform decided to create a dedicated page for students. The new student page contains carefully chosen, affordable student scrubs that are grouped according to brands like Dickies scrubs and categories like whites, lab coats and scrubs. This new page also includes student supplies, nursing gifts, bags & portfolio sections for easy student shopping. Automatically, items purchased from the student scrubs page are already marked down. Services, like free nursing school logo setup, are also offered in this page.
The scrub tops page that consists of branded nursing scrubs have also been refurbished with a new look. The changes in this page include the new two buttons that group products according solid tops or a print scrub tops cluster. Branded products like the famous Dickies scrubs were also grouped within the page for easy browsing.
While the changes promises customers a better shopping experience, it has never changed some previous perks that Pulse Uniform has been known to be offering. The 70% off on clearance nursing scrubs items has been retained and will remain a great dollar-saving perk of the website. The free shipping over $75 amount of purchase has also been kept. Furthermore, the website has even intensified its shopping security features that are provided for optimum customer privacy protection.
The 2011 catalog is currently in a work-in-progress state, but customers can already make reservations for it. Customers may leave their contact details in the catalog request form to avail a free product catalog that showcases newly added nursing scrubs, collections, brands and other innovative items.
For more information about the products and services offered by Pulse Uniform, they can be contacted 24/7, Mondays through Saturdays at 1.866.967.8573. They also entertain email queries through info(at)pulseuniform(dot)com or using their onsite chat service.
###