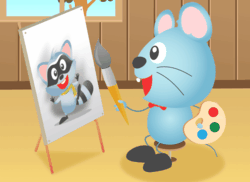 This app will help children develop basic sequencing and storytelling skills.
San Francisco, CA (PRWEB) April 28, 2011
Speech with Milo has a large and loyal following with Speech-Language Pathologists and parents of children in need of speech therapy. The latest app released by Doonan Speech Therapy focuses on building basic sequencing skills. It is certain to be another big hit.
Speech with Milo: Sequencing was created by a licensed Speech-Language Pathologist to help children develop sequencing and storytelling skills.
Therapists and parents have historically had to help children build these skills using $20 sequencing cards that do not necessarily hold the attention of a child. With the innovative Speech with Milo: Sequencing app, children are now much more engaged. The app has been tested extensively in therapy. Children love the ability to drag pictures of Milo and his new friend Melvin on their own. They enjoy the positive feedback that they get when they get the correct location of the sequence. Most of all, the children love that when they have worked through an entire sequence, they are rewarded with an animation that illustrates the sequence that they have just put in order.
Previous Speech with Milo apps have been enormously popular among Speech-Language Pathologists, the autism community, and parents of children in need of speech therapy. The Milo apps have garnered overwhelmingly positive reviews and were nominated as the education representative for the Mobile Premier Awards. The husband and wife team is extremely excited about this groundbreaking app, which has been extremely successful in therapy. They have posted a YouTube video that demonstrates exactly how one uses the tool:
http://www.youtube.com/watch?v=iiZ-IBPC6gU
More about the product:
Build basic sequencing skills by ordering three cards showing Milo and Melvin performing a task. For example, cards showing Milo "Washing Hands" and "Going to the Movies" are presented in random order. The child is tasked with putting the cards in order by dragging the images into the appropriate box (numbered 1-3). Once the child has put the cards in order, they are provided with the option to play the animation demonstrating the sequence of events. The app is provided with configurable options to view hints, hear the sentence aloud, 'success' sounds, etc.
These are the language skills you will be targeting with this app:
•Sequencing
•Storytelling and/or retelling
•Time concepts "first," "next," and "last"
•Increasing utterance length
•Developing complex sentences
•Improving grammatical skills
For more information about the app, you may visit http://www.speechwithmilo.com. You can purchase the app at http://itunes.apple.com/us/app/speech-with-milo-sequencing/id431803095?mt=8&ign-mpt=uo%3D2
###