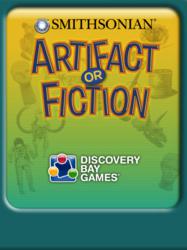 The Smithsonian Artifact or Fiction game promotes learning in a fun and exciting way, and the 'Duo' platform is perfect for allowing families to play together
Seattle, WA (PRWEB) April 27, 2011
Discovery Bay Games is excited to announce the second iPad game App to work using the Duo™ device – Smithsonian Artifact or Fiction, now available on the App Store for $2.99.
The Duo, an innovative gaming device created to work with the iPad, launched in December 2010, with the first game App, Yoomi (http://www.yoomigame.com). Smithsonian Artifact or Fiction is a trivia-based App that will work with the Duo in much the same way, ultimately turning the iPad into a fun, round-the-table "board game" experience.
The goal of Smithsonian Artifact or Fiction is to determine the correct answer to questions such as "What did Abraham Lincoln store in his top hat?" and "Before World War II, what flavor was the cream filling in Twinkies?" The question and two possible answers are displayed on the iPad screen and players make their guesses by placing a colored token onto the corresponding slot on the Duo. After all guesses are made, the answer is revealed (along with a related image and fun fact) and the top of the Duo spins, "banking" tokens for all correct guesses. (Note: You must have the Duo device to play Smithsonian Artifact or Fiction. The Duo device is available nationwide in the Yoomi Game for iPad.)
"The Duo has created a new platform for gaming and the response has been incredibly positive," said Craig Olson, CEO of Discovery Bay Games. "Anyone who currently owns a Duo or is planning to buy one will now have two great family games to play, with many more to come."
"The Smithsonian is delighted to be working with Discovery Bay Games," said Carol LeBlanc, Director of Consumer Products for Smithsonian Enterprises. "The Smithsonian Artifact or Fiction game promotes learning in a fun and exciting way, and the 'Duo' platform is perfect for allowing families to play together. Through the trivia-based game questions, Smithsonian is able to share knowledge about its collections and research."
In March 2011, Discovery Bay Games announced a licensing agreement with the Smithsonian Institution, the world's largest museum complex with 19 museums, 9 research centers and over 160 affiliate museums around the world. In addition to the Smithsonian Artifact or Fiction App, this new line of products will include board and card games, activity kits, and puzzles (available fall 2011).
About Smithsonian Institution
The Smithsonian Institution is the world's largest museum and research complex with 19 museums and galleries and the National Zoological Park, and research facilities around the world. For more information, visit http://www.si.edu.
About Discovery Bay Games
Based in Seattle, Discovery Bay Games makes award-winning and innovative games, puzzles, apps, and tablet and IOS game accessories that suit all ages and interests. The company's mission is to bring friends and families together to play, laugh, and interact. Discovery Bay is led by experienced game developers and professionals from a bevy of game companies including Cranium, Hasbro, Mattel, Screenlife, and Wizards of the Coast. In addition to developing original content, Discovery Bay partners with internationally recognized brands and licensors such as Broadway Video/Saturday Night Live, The Smithsonian Institution, Highlights For Children, Ringling Brothers and Barnum & Bailey Circus, GALLOP!, Norman Rockwell, University of Oxford, and many more. For more information, visit http://www.discoverybaygames.com.
Media contact
Natalie Dent / Director of PR / Discovery Bay Games
Office: (206) 547-1441 / Cell: (206) 605-1802 / Email: natalie(at)discoverybaygames(dot)com
###