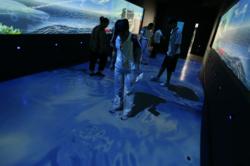 EyeClick's surfaces are engaging and exciting perfect for creating a wow effect people won't forget.
(PRWEB) April 28, 2011
EyeClick's interactive floor will be showcased at Hospitality Design Expo 2011 in Las Vegas. The Hospitality Design Exposition & Conference is the premier trade show for the hospitality industry. It is the essential show of the year for professionals interested in opportunities to learn, grow and connect with other businesses in this dynamic field. More than 900 manufacturers and artisans from around the world gather together under one roof on one level offering their latest and best inventions and ideas. From May 18th through the 20th EyeClick, will at the Sands Expo and Convention Center at booth 3860.
The EyePlay and EyeStep product families magically transform any floor area into a dazzling interactive display. EyePlay is a virtual gaming system where users can play games projected on the floor or walls. EyeStep creates interactive surfaces using colorful, dynamic graphics with unique effects. EyeClick's surfaces are engaging and exciting perfect for creating a "wow" effect people won't forget. It is ideal for hotels, retail centers, lobbies, hospitals, museums, airports, and other public locations. There are a large variety of ready to go, templates, effects and games. You can also customize the system to reflect any theme or effect you have in mind. Bring your design to life with EyeClick.
About EyeClick
EyeClick Ltd. (http://www.eyeclick.com) specializes in creating inventive products that transform designated spaces into magical experiences. The company's EyePlay™, EyeStep™, EyeWall™, EyeTouch™, and EyeBoard™ products open up a world of possibilities to engage audiences in out-of-home locations. EyeClick has helped leading brands, from Samsung and Volvo to NASA and GE, transform their floors, walls and window areas into spectacular interactive displays that leave a long-lasting impression on visitors. EyeClick gives designers, hospitals, event planners, retailers, media companies and other organizations the ability to showcase rich interactive digital content in public spaces, including family entertainment centers, medical centers, museums, malls, airports and chain stores.
# # #