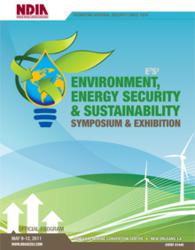 Arlington, VA (PRWEB) April 28, 2011
The National Defense Industrial Association (NDIA) will host the Environment, Energy Security & Sustainability (E2S2) Symposium & Exhibition in New Orleans May 9-12, 2011.
This event is an invaluable opportunity for industry leaders, academia, businesses and members of US DoD departments and agencies to innovate and share ideas on improving environmental, energy security, and sustainability management policies and practices.
"Going Green" is a concept that is here to stay, and this event is a must for anyone who is affiliated with the DoD. The implementation of Executive Order 13514 (Federal Leadership in Environmental, Energy, and Economic Performance) is a driving force behind the conference.
Attendees and exhibitors will have the opportunity to hear the latest policy and budget changes, and to participate in educational presentations, training sessions, and Q&A panels. These elements are intended to foster dialogue, encourage the exchange of ideas, and to promote networking among colleagues, industry and academic peers. For the first time this year, the Office of the Secretary of Defense Environmental Management will hold a pre-conference session on Monday, May 9, titled "Strategies to Evolve to a more Sustainable Military." DoD policy leadership will be present to discuss the way forward and respond to questions.
More than 300 presentations will revolve around the DoD's evolving approach to eco-management and sustainability. Topics will include Acquisition & Technology; Alternative Fuel & Power; Cleanup; Climate Change Management; Environmental Justice; Operational Energy; and Sustainable Design & Construction.
To underscore the importance of the issues at hand, and in the spirit of the theme, NDIA has partnered with Common Ground Relief/Bayou Rebirth Wetlands Education and Restoration to provide a volunteer opportunity for attendees and exhibitors. Participants will work in the bayous of Southeastern Louisiana planting marsh grass and trees, which will help to restore coastal salt marshes, swamps, and bottomland hardwood forests.
More information and registration options are online. Click here or go to http://www.ndia.org and type "E2S2" in the search box. Sponsorship and exhibitor opportunities are also available online.
About NDIA: The National Defense Industrial Association (NDIA - http://www.ndia.org) is America's leading defense industry association promoting national security. NDIA's Environmental and Energy Division advocates the development and application of cutting-edge technology, enlightened stewardship, superior programs and best-in-class systems and support toward the achievement of environmental excellence and the long-term security of our nation's energy supplies.
# # #