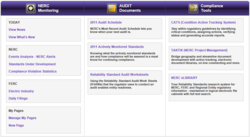 Unbelievable! NERC Monitoring is like have NERC Compliance 'In a Box!'
Fort Worth, TX (PRWEB) April 27, 2011
Certrec, a leading regulatory licensing and compliance solutions provider for more than 20 years, announced today the availability of NERC Monitoring.
"The ability to demonstrate NERC compliance is as important as compliance itself," says Bob Biggs, Manager of Certrec's Office of NERC Compliance. "Now utilities can demonstrate their compliance through NERC Monitoring - which helps them understand what's changing, how to prepare for audits, and track and manage compliance projects in the field. They're pretty excited to have this all in one place – online, on their iPad or iPhone."
Certrec invites NERC compliance managers to learn more about NERC Monitoring at: http://www.certrec.com/Pages/OfficeOfNERCCompliance.aspx?CONTENT=MONITORING
Founded in 1988, CERTREC is a regulatory compliance solution provider that helps utilities manage the NRC, FERC, and NERC regulatory process to their advantage. Certrec offers more than 250 cumulative years of engineering and audit experience with the Nuclear Regulatory Commission, the Federal Energy Regulatory Commission, the North American Electric Reliability Corporation, and other Regional Entities. Certrec's licensing and compliance, performance improvement, and technical solutions ensure that compliance managers better-manage the risks of the regulatory communication, documentation, audit, and mitigation process.
For more information contact:
Michelle Thomas
817.738.7661
Michelle.thomas(at)certrec(dot)com
http://www.certrec.com
###