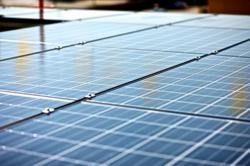 Melanie Betenbaugh, CFO for ARS stated "ARS is very proud to be a leader in green energy solutions."
(PRWEB) April 28, 2011
Aspenmark Roofing & Solar is proud to announce the completed installation of its own solar system. Aspenmark recently finished the project that included the installation of 52 solar panels manufactured by Kyocera, one the world's premier suppliers of solar energy products. The project also included installation of multiple inverters and a Sunny WebBox, which is a multifunctional, energy efficient data logger that enables users to monitor the system from remote locations over the web.
In its continuing effort to promote green energy, Aspenmark Roofing & Solar rewards itself with a solar system that significantly reduces an electric bill that averages approximately $500 per month. To see other Aspenmark Roofing & Solar projects, or to check out other products and services, visit http://www.AspenmarkRoofing.com or http://www.RoofLeaksSuck.com
# # #