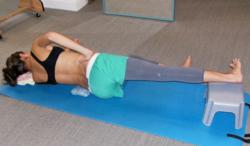 The Schroth scoliosis exercises are multi-step, curve-pattern-specific exercise and breathing sequences based on a patient's unique spinal anatomy.
Woburn, MA (PRWEB) April 28, 2011
Scoliosis is a three-dimensional spinal condition often diagnosed during adolescence. At Scoliosis 3DC, near Boston, Dr. Marc Moramarco provides non-invasive, scoliosis-specific exercise instruction utilizing the Schroth Method of Germany. This new alternative to the US is for families who want to take a proactive route rather than accept the traditional 'watch and wait' approach frequently recommended when a mild scoliosis is detected.
When incorporated during the mild phase of scoliosis the Schroth Method may help a newly diagnosed child at a high risk of progression improve the odds of halting progression, hopefully to avoid bracing. When bracing is prescribed though, usually for younger, high risk patients or for those in the moderate phase, the Schroth Method can serve as an effective adjunct to the brace.
Some signs of scoliosis to look for are: un-level shoulders or hips, a hip or shoulder prominence, a shoulder blade that wings or sticks out, head tilt, and/or a rib prominence. Scoliosis presents in subtle ways parents may dismiss, for example, an uneven hem line or clothes that don't hang smoothly.
If scoliosis is suspected, the Adams Forward Bend Test can help detect a rib prominence. If spinal asymmetry exists, scoliosis may be present and a full-spine x-ray series should be obtained for a definitive diagnosis. A radiologic measurement known as Cobb angle confirms scoliosis.
Currently, scoliosis is generally treated as follows: for a 10-25º Cobb angle -mild scoliosis- doctors typically advise "watch and wait" with check-ups in 3-6 month intervals, for a 25º Cobb angle -moderate scoliosis- bracing may be recommended. When bracing fails to stop progression and scoliosis reaches a 45-50º Cobb angle spinal-fusion surgery is often recommended to stabilize the spine; although, the Schroth Method can still help patients in this category as well.
The Scoliosis 3DC program focuses on spinal stabilization via a rigorous outpatient program incorporating education, the Schroth exercise and breathing techniques, and instruction in activities of daily living for scoliosis.
The scoliosis exercises are multi-step, curve-pattern-specific exercise and breathing sequences based on a patient's unique spinal anatomy. A patient's regimen is based on the Schroth three-dimensional treatment program used for the past ninety years in Germany. Also incorporated are newer techniques to show a patient how to function during daily life without feeding into curve progression.
For adolescents, adults and post-surgical patients, the program provides essential knowledge and teaches skills necessary to counteract advancement and improve quality of life with scoliosis. This is done by showing the patient how to create a more stable, yet flexible spine. Other likely benefits are increased pulmonary function and chest expansion, better posture and appearance.
To date, patients who have completed the rigorous twenty-one hour program, practicing thirty minutes daily, have all avoided spinal surgery.
The Schroth Method is becoming the treatment of choice for families who prefer to be proactive in the battle against scoliosis curve progression. Hence, the catch phrase - Scoliosis 3DC, Not Wait and See.
###