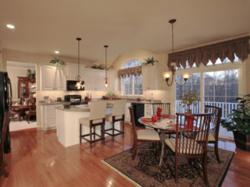 The free Dream Home Package makes the selection of new construction an even better value.
(PRWEB) April 29, 2011
Rouse Chamberlin Homes announced the offer of a free Dream Home Package with sales of most of their award-winning new construction homes during May 2011. The Dream Package combines the most requested home buyer upgrades.
"The Dream Home Package offers the seven most popular home upgrades for FREE," announced Rouse Chamberlin Homes President Dave England. "Home buyers specifically seek out new construction because of the value it offers in terms of warranty coverage, energy efficiency and the ability to select the options that will make up their new home. People also value being the first owner of a home because then they feel it is really theirs. The free Dream Home Package makes the selection of new construction an even better value."
The Dream Home Package being offered includes: Hardwood flooring in the foyer; 9 foot first floor ceilings; gas fireplace; crown molding throughout the home; kitchen cabinet upgrade (to Level 1); kitchen appliance upgrade (to Level 3); and granite upgrades for standard kitchen (Level 1).
As an extra bonus, Rouse Chamberlin Homes will also offer a free Lighting & Fixture upgrade during the month of May. This offer upgrades all lighting fixtures and door hardware within the home. It also is among the most requested upgrades in new construction.
"Rouse Chamberlin Homes is nationally-recognized for our exceptional quality construction," noted Sales Leader Colleen Whalen. "Having been named America's Best Builder from the National Association of Homebuilders is an amazing achievement. Home buyers will find that these additional incentives make our homes a phenomenal value."
To qualify for the free Dream Home Upgrade and the Lighting & Free Fixture Upgrade, buyers must make deposit by May 31, 2011 and use the preferred lender and title company. Aspen and Woodbine models not eligible for free Dream Home Upgrade.
Rouse Chamberlin Homes is currently building in Montgomery County at its Fairbrook, The Preserve, and Kingston Hill communities. The sales office is located at 2078 Swamp Pike, Gilbertsville and is open Wed-Sun. 11-5. In Chester County, Highspire is located at 104 Brittany Lane, Glenmoore and is open Wed.-Sun. 11-5. Eligibility details may be obtained by contacting the Montgomery County sales office at 610-323-0603 or Highspire at 610-970-3970.
Since 1978, Rouse Chamberlin Homes has been building homes and thriving neighborhoods focused on the home buyers' needs. The result has included exceptional customer satisfaction results and industry recognition including "National Builder of the Year" and "America's Best Builder" awards. Current active communities are located in Chester and Montgomery Counties. For more information, visit http://www.RouseChamberlinHomes.com.
# # #