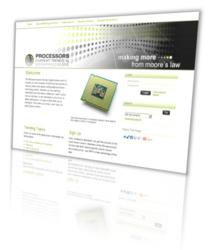 This online tool serves as an archive for valuable educational content as well as a vehicle to make the content marketable and usable.
Madison, Wisconsin (PRWEB) April 29, 2011
Omnipress, producers and distributors of educational content for meetings, conferences, training events and publications, announced today the expansion of services to include Online Knowledge Center solutions.
Omnipress' online Knowledge Center solution provides associations with a centralized, user-friendly location to house and distribute all of their valuable educational content. This solution provides associations a way to leverage content such as technical papers, conference presentations, recorded webinars, specification guidebooks, seminar manuals, standards and other educational publications to drive revenue, enhance member satisfaction and grow membership by making content more findable and usable.
Steve Manicor, Omnipress Vice President of Business Development explains, "Educational content generated by most associations is an incredibly valuable organizational asset, yet many associations are struggling to put this asset to work. Omnipress now offers a tool that can unleash the value of this content and help associations drive revenue and membership growth."
This online tool serves as an archive for valuable educational content as well as a vehicle to make the content marketable and usable. Knowledge centers give associations increased control over content by providing subscription management, e-commerce, advanced search capabilities and robust analytics in a single, integrated software as a service solution.
Knowledge centers also allow associations to expose content to search engines such as Google, Bing and Yahoo making it more searchable and findable. Since each page of content in the Knowledge Center has its own unique URL, search engines index more content making it more discoverable and find-able. In turn, this leads to opportunities for organizations to drive users and potential members into their website via the knowledge center.
Manicor goes on to say, "This solution is designed specifically for associations and organizations that have educational content that they would like to make more usable, findable, deliverable and sharable. Associations by the nature of their mission usually have an abundance of highly valuable and vetted content. The Knowledge Center provides associations the opportunity to take content and make it a true organizational asset.
About Omnipress
Omnipress provides associations with new ways and practical solutions to produce and distribute educational content for their meetings, training and publications. Our focus is on making content accessible, useful, relevant, timely and cost effective with these solutions:
-Online collection and management of abstracts, reviews and final presentations
-On-demand printing and CD and flash drive creation
-Online event communities and conference sites
-Order fulfillment, inventory management and on-demand printing
-Online knowledge centers
More than 800 associations and meeting professionals trust Omnipress to provide sensible solutions and apply best practices to their unique conference needs each year. Omnipress is known for getting the job done right and on-time while making customers' jobs easier and their organizations look good.
For more information on Knowledge Center solutions,
please visit http://www2.omnipress.com/knowledge-centers.
For more information on Omnipress, visit http://www.omnipress.com.
# # #