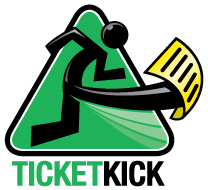 We have seen excellent success and every ticket is worth fighting
San Diego, CA (PRWEB) April 29, 2011
California based legal company, TicketKick, helps drivers fight their traffic tickets, and has had unparalleled success with their defenses.They're also out to help educate drivers of what they can do when they get pulled over to avoid a ticket in the first place, with a new how-to video released to show drivers how to talk their way out of a ticket. Greg Muender, TicketKick's Founder and President says, "We created a video with the purpose of being both educational and entertaining, depicting a scenario of a speeder getting pulled over. At first it was just for fun, but we've actually received a lot of calls from people saying that they used these tips, and were able to get off with a warning."
Research has shown that an estimated 16 million traffic tickets are issued in California each year. TicketKick has helped fight several thousands of tickets and has seen about 3/4 of tickets get dismissed with their defenses. Mr. Muender adds, "Many tickets are wrongly issued. Here in America, you are innocent until proven guilty and it's up to the officer to prove your guilt. Not every ticket can be dismissed, and that's why we've set up a money back guarantee. Nevertheless, we have seen excellent success and every ticket is worth fighting."
So what are the best ways to avoid a ticket? TicketKick's short video, "How to Get Out of a Traffic Ticket, What To Do When You See the Red and Blue" gives these 10 tips:
1) First and foremost, drivers should always drive safely and obey all traffic laws. TicketKick does not endorse speeding or other violations.
2) When they see the officer behind them, they should pull over immediately on the shoulder. If they wait too long to pull over, the officer might mistake them for trying to evade the situation.
3) By rolling down their windows, turning their car off, and placing their keys up on their dashboard with their hands on the wheel, the officer will see that they are non-confrontational, non-threatening, and willing to cooperate, which may take the officer's guard down a bit.
4) They should always hold their ground and avoid saying anything that can be used against them in court. The officer will probably try to get them to admit guilt by saying something like, "Do you know why I pulled you over?" The driver should display confidence that they were driving safely and according to the law.
5) When the officer tells them why he or she pulled them over, the driver can ask for a warning. Officers are generally allowed to issue warnings, but it's up to the discretion of the officer to do so. If the driver is nice and respectful to the officer, the officer may be willing to let them off with a warning.
6) The officer will probably ask to see their license, registration, and proof of insurance. Drivers should always have these easily available to find, to avoid keeping the officer waiting. If the officer runs their drivers license and finds that they have a clean record, he or she may be more willing to let the driver off with just a warning.
7) Drivers should always be courteous and respectful to the officer, never arguing with him or her.
8) Lastly, if the officer does write a ticket, the driver should always sign the bottom of the ticket. This doesn't admit guilt, this simply means that they promise to appear on this matter.
9)They should avoid saying anything that will make them stand out in the officer's mind, in order to have the very best chance at fighting it.
10) They should keep the ticket in a safe place. TicketKick will need the ticket information to formulate defenses for it.
TicketKick is a registered Legal Document Assistant, providing self help services to help people fight their traffic tickets, with a similar service model to companies such as LegalZoom and E*Trade. TicketKick works with attorneys in California to develop their defenses, which utilize many different arguments and tactics in traffic ticket defense.
The offices of TicketKick are located in Mission Valley in San Diego, and although most of their business is conducted over the phone and on the web with customers all over the state, local customers are welcome to make an appointment to visit the offices of TicketKick and meet their team. Otherwise, TicketKick representatives are happy to offer a free consultation over the phone. TicketKick customers are encouraged to post their testimonials at Facebook.com/TicketKick.TicketKick representatives can be reached at (800) 580-1902, at http://www.ticketkick.com, or at questions(at)ticketkick(dot)com.
# # #