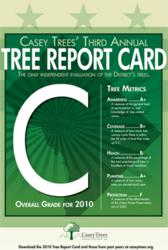 The lower grade is due in large part to the F assigned to tree protection, which measures the effectiveness of the Urban Forest Preservation Act of 2002
Washington, D.C. (PRWEB) April 28, 2011
Casey Trees' Tree Report Card, the only independent assessment of D.C.'s trees on both public and private lands, gives the nation's capital a C for 2010 - a drop from 2009's grade of B-. The Report Card uses five tree metrics: awareness, coverage, health, planting and protection, to generate the overall grade for tree-related activities performed the previous year.
The lower grade is due in large part to the F assigned to tree protection, which measures the effectiveness of the Urban Forest Preservation Act (UFPA) of 2002. The UFPA and its Tree Fund were created to replace large trees that are removed because of development and related activities. Our findings show that the UFPA is not achieving its goals because of poor oversight and use of Tree Fund dollars for purposes unrelated to those stipulated in the UFPA.
Chief among the issues cited for the failing grade was the redirecting of $539,000 from the Tree Fund to the General Fund in FY11 to offset budget shortfalls, and the lack of records to show if 10,000 trees that should have been planted since 2002, are alive or were even planted. The Tree Report Card recommends the Gray Administration reevaluate how the UFPA is administered, and potentially shift that role to an agency that is better suited to the tasks outlined in the Act.
Positive marks were earned for tree planting and awareness, which measure the number of trees planted and general level of knowledge and participation in tree-related issues. Both received an A+. For the first time since the District announced its Urban Tree Canopy Goal of 40 percent by 2035 (requiring that 8,600 trees be planted each year by all sources, public and private), the goal was exceeded with 8,632 trees planted. Grades for tree health (B-) and tree coverage (B+) remain unchanged from 2009.
This year's and past Tree Report Cards may be viewed in their entirety, along with recommendations for how to improve D.C.'s grade, at http://www.caseytrees.org/planning/advocacy-tools.