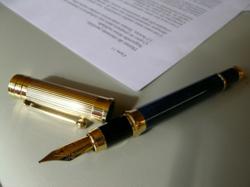 ...as many as 20 percent of the over 600,000 firms presently registered in CCR have mistakes in their records.
St. Petersburg, FL (PRWEB) April 28, 2011
Before a company can do business with the government, they must obtain a Dun & Bradstreet D-U-N-S Number, register in the Central Contractor Registration (CCR) database and complete the Online Representations and Certifications Application (ORCA). Without proper registration, it is impossible for a small business to be awarded a federal contract or receive payment for any work completed. While registration is free, business owners often struggle with the process and learning how to complete registration can be extremely time consuming.
In addition, the Georgia Tech Procurement Assistance Center estimates that "as many as 20 percent of the over 600,000 firms presently registered in CCR have mistakes in their records." These mistakes include such errors as misspellings, omitted information or incorrect information and all have the potential of disqualifying a vendor from being awarded a contract. Many mistakes are the result of rushed and unprepared registration by inexperienced business owners trying to meet deadlines to bid on contracts or receive payments.
USASpending.gov reports that $164.8B has been spent on Federal Contracts so far during Fiscal Year 2011. However, according to data on FPDS.gov, only about $4.5M of that money was awarded through small business set asides. This falls far short of the Federal Government's goal of awarding 23% of all contracts to small business concerns. In many cases, these contracts are awarded to large firms because there is a shortage of properly registered, qualified small businesses to work government contracts.
To help small businesses quickly and accurately complete the required registration, US Federal Contractor Registration gives vendors the option of having an experienced Case Manager complete their CCR registration on their behalf.
Registration through one of US Federal Contractor Registration's Case Managers gives businesses peace of mind and security in knowing their CCR registration and ORCA filing are correct. Registration is also maintained throughout the year, so any changes or new requirements can be updated as needed without a lapse in eligibility for contracts or payments.
Companies also save time by registering through a US Federal Contractor Registration Case Manager. While a straightforward, problem free registration can be completed fairly quickly, learning the rules, regulations and processes to get registered properly can take weeks of attending courses, studying and research. In addition, troubleshooting and correcting errors can be very time consuming for the inexperienced. Experienced Case Managers can generally fix problems far quicker than the average registrant.
US Federal Contractor Registration also goes one step further for their clients. After registration is completed, all clients receive a free month of marketing, in which their company's information is sent to government buyers in their region. Additional marketing services are available on a yearly basis for companies wishing to aggressively pursue contracts.
Case Managers ensure that a vendor's registration will be completed quickly and accurately, starting them off on the right foot when they seek out government contracts. This means more time spent operating their business and none wasted due to improperly completed paperwork.
US Federal Contractor Registration is a third party company offering businesses the option to work with a case manager to complete and maintain their CCR registration and ORCA filing for one year, and then market their business to the federal government. Contact us today at https://www.uscontractorregistration.com or #877-252-2700 to start your registration.
###