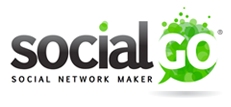 (PRWEB) April 28, 2011
SocialGO recently released a set of White Papers to examine Social Networking in various niches, including politics. And while everyone is aware of Twitter and Facebook and how different social media is affecting the way we live our lives, the changes to our lives go beyond those two sites, and even beyond other well-known social media platforms such as Linkedin and Myspace. These are online communities that cover the spectrum of people from across the globe. Even those communities with specific purposes, such as Linkedin (a business social network), are open to any professionals.
Key learnings include the thought that now that the likes of Facebook are so well established, people are starting to look beyond them to the creation of online communities for smaller groups. Typically, this could be something like a social community created for a local sports club that can be used for arranging fixtures. It could allow members of the club to communicate easily, share information about social events and bring the club closer together by improving communication. This type of social networking community would also be useful for organizations like churches which could create a social media platform for their congregation.
However, creating websites with a social network focus also play an important part in organizations that are not strictly social in nature, such as political parties. This was demonstrated with the extremely successful US presidential campaign of Barack Obama, who utilized social media in his campaign run. It is widely believed that his use of social media helped influence the outcome of the election, resulting in his victory.
Examples from the usage of social media during the last American election have provided inspiration for a number of political groups to embrace the use of social media to disseminate their message. This is the reason that SocialGO has created social media websites for a number of organizations, including a social media website for Dominique Villepin who is a potential candidate for the French Presidency in 2012. This social website is crucial to the campaign because it connects supporters all over the country and helps to spread the campaign's message to people online.
Find out more about the white paper at http://www.socialgo.com/socialgo-for-politicians.html
###