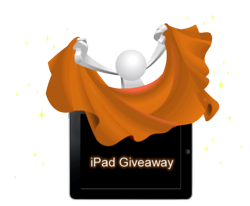 Henderson, NV (PRWEB) April 29, 2011
FilesDIRECT, the leader in secure online file transfer, today announced the end of their first "Innovations" contest – with 2 lucky winners each walking away with an iPad 2.
The Innovations contest (launched in March 2011) was designed as a method of encouraging FilesDIRECT users to offer their suggestions for improvements to the service, as well as ideas that would take FilesDIRECT "to the next level". The prizes available for the winners included an iPad 2 and a free 1-year Starter account for the first-place winner, an iPad 2 for the second-place winner, and a 1-year Starter account for the third-place winner. Winners will be contacted individually, and each winner will be announced to the public once their winning suggestion has been implemented.
"We were definitely surprised by the quality and variety of ideas we received," says Ross Mann, Director of Business Development at FilesDIRECT "and there were a few areas where contestants' selections overlapped, which were solid indicators that there was something there that needed immediate attention."
Contest entries were judged by representatives of the Development, Marketing, Customer Support and Management teams using a variety of criteria, including estimated positive impact on users, difficulty of implementation, how many users offered the same suggestion, and others.
FilesDIRECT is the original, and still one of the best, companies providing secure web based file transfer. Serving individuals, government agencies and companies of all sizes, thousands trust FilesDIRECT to instantly and securely send, receive and track their valuable data. Working with any type of file, FilesDIRECT's wide variety of features is available to all their clients for no additional cost, making them a top choice for easy, secure large file transfer.
If you'd like more information about this topic, or would like to schedule an interview with a member of our Executive Team, please call (888) 520-3999 or email juan(at)filesdirect(dot)com.
# # #