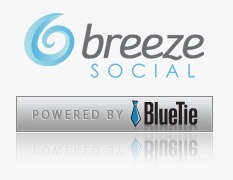 "Our partner network is a well established and valued element of the BlueTie business model and we're excited to empower them with another value adding tool for their users that can have a tremendous impact on their bottom line" - Shawn Ryan, VP, BlueTie
Rochester, NY (PRWEB) April 28, 2011
Software and IT resellers now have a social media management and marketing tool to offer their small and mid-sized business (SMB) customers who require a service that helps them engage, interact and measure success on the social web. This is the first social media management partner program that affords resellers provisioning and management of their users while helping their customers establish a meaningful social media presence. Breeze Social is the latest tool from BlueTie, a 12 year veteran in the white-labeled SaaS business applications space, and provides resellers with an opportunity to offer their customers a service they need while also increasing their ARPU and average customer lifetime 81%. Breeze Social,launched March 31st 2011, simplifies the social web for businesses by centralizing all social media networks in one intuitive interface, and is the only social media management tool that suggests what users should share on the social web through its innovative posting suggestions feature launched earlier this week.
"SMB customers make up the lifeblood of a VARs' business and they are actively seeking a tool like this," remarked Shawn Ryan, VP Product Strategy and Marketing, BlueTie, Inc. in a statement. "Our partner network is a well established and valued element of the BlueTie business model and we're excited to empower them with another value adding tool for their users that can have a tremendous impact on their bottom line."
Breeze Social, built for SMB's, centralizes users' various social media identities, helps users see what's being said to and about their business on all networks, and helps users quickly reply and contribute to these conversations. Moreover, based on users' company profile, industry, named competitors and locale, Breeze Social provides relevant news and meaningful information for users to share on the social web. Breeze Social also lets users schedule future social media activity and formats messages to fit within the unique posting constraints of each network.
"Breeze Social was engineered based on the invaluable feedback from our SMB customers. They required a tool that was simple but also provided direction and real, measurable results to quantify their efforts," Ryan said. "Breeze Social removes the social media jargon and the nuances of each network so SMB's can focus on sharing their carefully crafted messages."
The Breeze Social partner program is a wholesale based model where partners manage the customer and billing relationships as well as user management and provisioning. More information is available at breezesocial.com/partners.
About Breeze Social
Breeze Social helps businesses (SMBs) quickly engage, interact and influence the social web while providing measurable results that confirm return on their social media investment. With Breeze Social, SMB's have the ability to post to leading social media networks, see what's being said to and about them, engage their customers, and measure their impact all from one, intuitive interface and in less than ten minutes a day. Powered by BlueTie, a 12 year veteran in the hosted applications for SMBs space, Breeze Social leverages BlueTie's industry leadership in scalable business applications to deliver a reliable value-adding solution. http://www.breezesocial.com
# # #