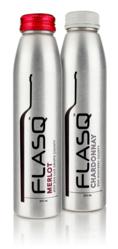 FLASQ will bring race fans a portable and socially responsible approach to the enjoyment of wine," said Tim McDonald, co-founder and CEO of JT Wines (parent company for FLASQ Wines)
Sonoma, CA (PRWEB) April 28, 2011
Infineon Raceway and FLASQ Wines have entered into a new agreement giving the St. Helena (Calif.)-based winery its first-ever sports venue alliance in the United States.
Located in the beautiful Sonoma Valley, the raceway is an ideal fit for FLASQ, as it is the first domestic wine sold in convenient, quick-chilling and 100-percent recyclable 375ml aluminum bottles. FLASQ will be available at the track throughout the 2011 Big O Tires Racing Season, beginning this weekend at the Ferrari Challenge (April 29-May1).
As part of the agreement, FLASQ will have season-long display and sampling opportunities at each of the track's major events, including the Toyota/Save Mart 350 NASCAR Sprint Cup Series weekend (June 24-26), FRAM Autolite NHRA Nationals (July 29-31) and Indy® Grand Prix of Sonoma (Aug. 26-28), among others. FLASQ Wines will also receive the right to use the Infineon Raceway name and logo for promotional purposes.
"There has always been a strong demand for wine among our event patrons, but we've struggled to find the right packaging and service options for this active, outdoor environment," said Steve Page, president and general manager of Infineon Raceway. "The FLASQ system is perfectly suited to this purpose and we look forward to offering this terrific product to our fans."
"A relationship with Infineon Raceway is a tremendous match for FLASQ Wines," said Tim McDonald, co-founder and CEO of JT Wines (parent company for FLASQ Wines). "Considering the track's Northern California location rooted in the wine industry and the variety of premier motorsports events they feature, FLASQ will bring race fans a portable and socially responsible approach to the enjoyment of wine. We look forward to introducing spectators to our Chardonnay and Merlot varietals hailing from California's prominent Monterey and San Luis Obispo Counties."
About FLASQ Wines
Sold in 375ml demi-bottles, FLASQ Wines is the first line of domestic wines packaged in 100% recyclable and quick-chilling aluminum bottles. With Chardonnay and Merlot varietals hailing from California's prominent Central Coast, FLASQ offers a convenient, socially responsible and exuberant approach to the enjoyment of wine. It's Great Wine, Any Time. For information, please visit http://www.FLASQwines.com or call 707.963.0492. FLASQ Wines can also be found on Facebook/FLASQwines and Twitter (@FLASQwines).
About Infineon Raceway
Infineon Raceway, located in the Sonoma Valley, is Northern California's premier motor-sports destination, featuring a world-class road course, drag strip and karting center. Its annual race schedule is headlined by the NASCAR Sprint Cup Series, NHRA Full Throttle Drag Racing Series and IndyCar® Series. In addition, Infineon Raceway boasts a motor-sports industrial park, which serves as home to more than 70 businesses, including the Jim Russell Racing Driver's School. Infineon Raceway is a wholly-owned subsidiary of Speedway Motorsports, Inc. (NYSE: TRK), a leading marketer and promoter of motor-sports entertainment in the United States.
###