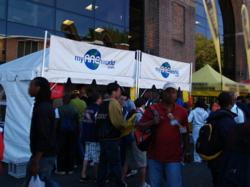 Rivalry runs rampant at The Penn Relays, so we're going to channel that energy to fuel our online competition,
Royersford, PA (PRWEB) April 27, 2011
AAE (Aluminum Athletic Equipment Co.), manufacturer of top-quality athletic equipment and Official Supplier to The Penn Relays, plans to use its presence at the world's largest track carnival to rouse its final participants and ultimate winners of "The Rivalry $10,000 Competition", which ends on May 15, 2011 12pm EST. The top three schools with the most Rivalry members on myAAEworld will be awarded $10,000, $2,500 or $1,000 worth of AAE sports equipment respectively.
"Rivalry runs rampant at The Penn Relays, so we're going to channel that energy to fuel our online competition," commented Tim Driscoll, President of AAE. "The challenges athletic departments face with budget cuts and pay-to-play could be offset by winning any of the three prizes."
Schools will be able to monitor their rankings via "The Rivalry Competition | Leaderboard" on The Buzz, myAAEworld's forum. Threads will be posted to provide updates of the Top Ten as a barometer for where schools stand in relation to one another.
"Our current leader organized to add over 250 rivals in just one day," stated Leigh Diskin, AAE Director of Marketing, "so schools shouldn't be discouraged by the numbers to beat. We're bracing ourselves for the mad rush at the end. It is a gamble - last minute registrations are a risk given the potential limits of technology and timing."
AAE's website myAAEworld.com has a section called "The Rivalry". This area was designed as a virtual competition – it's an online community of athletes and coaches that strive to be the best. "Rivals" have the ability to track stats, post profiles and pictures, link to highlight videos, maintain private training journal/calendar and message other rivals. In the competitive spirit, AAE awards custom prize packs to rivals selected as the Athlete and Coach of the Month.
This isn't the first contest myAAEworld has run. Last spring they held an iPad drawing among registrants on the site from the Penn Relays. The contest was so successful, they ran another drawing a few months later. This past fall, AAE also put together a drawing for $5,000 worth of sports equipment to the school that had the most registrants on their site in a given time period. In recognizing that their past contests were only drawings, AAE took a different approach this time and decided to place control in the hands of the participants.
Since inventing and patenting the aluminum rocker hurdle in 1950 for the track marketplace, AAE has introduced a multitude of new products for use by coaches and athletes worldwide. With the use of advanced technology and design innovations, the firm makes over 500 items, including: track hurdles; track starting blocks; discus cages; pole vault pits; high jump pits; long jump pits; permanent, portable, hinged or rotating football goal posts; semi-permanent or portable soccer goals; field hockey goals; lacrosse goals; baseball batting cages; baseball foul poles; ball stopper protective sports netting; portable press boxes; team benches; portable bleachers and Kronum goals. AAE develops, fabricates and assembles most products at its Royersford headquarters and manufacturing location near Philadelphia. For more product information call 800-523-5471 or visit myAAEworld.com.
###