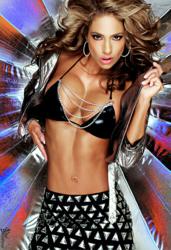 Be on the lookout for Alex. She is a future International Fitness Celebrity in the making - JNL
(PRWEB UK) 29 April 2011
Jennifer Nicole Lee (JNL) is one of the world's most highly sought after fitness models, gracing over 40 magazine covers in less than five years. She holds many award winning fitness titles, such as Miss Bikini Diva (twice); has been featured on The Oprah Winfrey Show; is a bestselling author of three hard cover books and many eBooks; and is known internationally due to the success of her globally broadcast infomercials for the Ab Circle Pro.
Alex, originally from Ireland, is a highly experienced personal trainer and nutrition expert, who in recent years has entered the competitive circuit and has quickly attracted attention from the media, sports brands, and followers alike, with modeling shots and articles in a variety of magazines (Women's Fitness, Ultra Fit, Fit and Firm, ExtraFit and Fitnorama). She was chosen as Lindsay Messina's March Model Highlight of the Month with Perfect Body Online, and will be featured as the April model in sports nutrition company Gaspari's calendar for 2012.
She has recently been selected by Gaspari UK to be part of their team – a role that's highly sought-after by professional athletes and those on the competitive sports circuit.
JNL says: "Being a leader in the fitness industry, and only working with the best, I was thrilled to see Alex from London, UK apply at http://www.FitnessModelFactory.com. I was impressed with her amazing physique, smile, and camera presence – as well as how passionate she was to work with Team JNL. She is JNL approved, and by coaching her, she will go further in her career, faster. Alexandra is fabulous!"
JNL's Fitness Model Factory is a programme developed for an elite group of fitness models who work with JNL and her team of fitness experts, coaches, photographers and videographers, one-on-one. Alex will be travelling to the States to work with JNL this June, as well as competing in the Fitness Universe competition in Miami.
Alex entered her first competition – Fitness America in Miami – in 2009, which is when she discovered her passion for competing, coming in the top 10 out of hundreds of entrants in the Bikini category. Since then, she has competed in the WBFF Toronto (2010), coming fifth in the bikini category, and also made it through to the semi-finals in World Sports Model Britain (2010). This year, she has many competitions planned with Fitness Britain, Fame, Fitness America and the WBFF.
Be on the lookout for Alex. She is a future international Fitness Celebrity in the making, as she works side by side with Team JNL at the Fitness Model Factory, in building her brand and online/offline businesses. She is also a fierce new fresh face of the haute couture fitness apparel line designed by renowned Elisabetta Rogiani for JNL. Alex can be seen modeling these pieces from http://www.JNLbyRogiani.com and being a face of their global campaign.
Alex can also be found on the Gaspari website http://gasparinutrition.co.uk/alex-wilson.html), twitter (http://www.twitter.com/TheAlexWilson), and facebook (http://www.facebook.com/Alexandra1974).
# # #