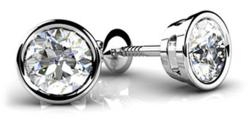 San Diego, CA (PRWEB) April 28, 2011
Mother's Day is May 8th and provides a perfect opportunity to give a mother's day gift that she'll never forget. Anjolee presents their gift guide to the top ten customizable jewelry gifts this Mother's Day holiday. The below list has the best selling diamond earrings, diamond tennis bracelets, gemstone tennis bracelets and personal pendant necklaces – available now on Anjolee.com. Because every mom is unique, customize each jewelry item according to her favorite gold or platinum type, diamond or gemstone color, length and size.
1. Classic Three Prong Diamond Studs (ST992) You do not have to spend a lot to spoil your Mom this holiday. Because a pair of simply elegant three prong diamond studs starts at just $184.05.
2. Gemstone Diamond Bracelet(SB854-Gem), This colorful version of one of the most popular four prong, classic diamond tennis bracelets now features alternating birthstones for a very personalized gift. Starting price is just $742.65.
3. Gemstone and Diamond Pendant (SP8-Gem) We took our popular diamond pendant design and gave you the option to customize with gemstones. A colorful, lovely addition for Mom's jewelry closet. Wonderfully affordable price tag starting at just $108.45.
4. Three Stone Diamond Bangle Bracelet (BB18) A timeless accessory, the three stone diamond bangle has effortless style built into it. This subcategory of diamond bracelets has single stone bangles and multi-stone bangles to choose from. The three stone version starting from just $589.37.
5. Life Is Great Journey Diamond Pendant (SP60) Journey jewelry is representative of life's greatest moments and this diamond pendant is no different. A wonderful gold or platinum setting holds the diamonds secure in this highly personalized pendant choice. Starting at just $204.26.
6. Classic Bezel Set Diamond Studs (ST981) The everyday accessory, a pair of bezel set stud earrings are simply, classic and dressy all at the same time. Affordable pricing starting at just $196.51.
7. Vintage Dreams Diamond Bracelet (SB870-A) The best of modern design with vintage styling, the vintage tennis bracelets category is full of supremely stylish choices. Starting from just $1,399.46.
8. Triple Row Inside Out Diamond Earrings Medium (SE63-C) These elegant new hoop earrings combine traditional hoop design with amazing sparkle. Both the inside and outside of these hoops are lined with darling diamonds. Spoil her with these and she'll want to wear them out on the town. Starting at $1.720.63.
9. Eternal Love Journey Diamond Pendant (OSA4) A very tender expression of appreciation is granted with this lovely diamond pendant. A journey style means the diamonds graduate in style and can represent a moment or event in life. Prices begin at $320.61.
10. Elegant Designer Diamond Pendant (OSA7) A diamond pendant like this will get a lot of use. It's the fashionable necklace that can be worn casually or to a dressier event. Starting at just $1,423.35.
# # #