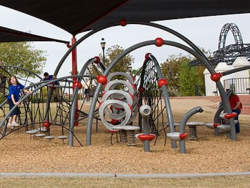 Delano, MN (PRWEB) April 29, 2011
Landscape Structures Inc., a Delano, Minn.-based commercial playground equipment manufacturer founded by Barb and Steve King, is celebrating 40 years of providing innovative commercial playground equipment for community parks and school playgrounds. Since opening its doors in 1971, Landscape Structures has created play experiences for kids while also providing an environmentally preferable option for playground equipment.
Cofounder, Steve King, is the creator of the "continuous play" concept, which involves combining traditional playground equipment such as playground slides, playground climbers and swings into an endless stream of activities. Together, he and Barb (1946-2008) created a culture of respect, innovation and continuous improvement making it a great workplace for their 300 employees and 200 independent playground consultants worldwide.
From the beginning, with the "continuous play" concept, Landscape Structures has been leading the way in innovative commercial playgrounds. In addition to traditional play structures, playground climbers and spinners, Landscape Structures designed the Evos™ and Weevos™ play systems, Mobius® playground climbers, nature-inspired playground products and inclusive play playgrounds.
Learn more about Landscape Structures' 40-year history and their commercial playground firsts innovations.
# # #