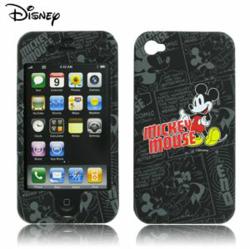 The characters created by Disney aren't just some of the most beloved characters in this country. They are some of the most beloved characters in the world
Orange, CA (PRWEB) April 28, 2011
In a move sure to make their customers happy, Cell Phone Accents has just recently added a full line of Disney themed cell phone cases to their product lineup. The cases feature many of Disney's most iconic characters and are available for both the Verizon and AT&T iPhone 4, the Blackberry Curve, and Motorola Droid X. All the new cases are officially licensed by Disney.
In total, 31 new cell phone cases will be added to the website, providing a great variety of characters and styles to appeal to the widest possible Disney fan base.
"The characters created by Disney aren't just some of the most beloved characters in this country. They are some of the most beloved characters in the world," said Tony Lee, co-founder of CellPhoneAccents.com. "We are extremely excited to be able to offer products officially licensed by Disney. It's a brand and a product that transcends generations and gender."
The Disney themed cases are just the latest additions to Cell Phone Accent's impressive inventory. The online cell phone accessories retailer already carried accessories from well known brands like Ed Hardy, BodyGlove and Dooney and Bourke.
Each Disney licensed case is made from durable plastic with a rubberized coating. They are designed to snap onto a cell phone, and are custom cut to ensure to full functionality of the phone while providing a layer of protection. Each case retails for $11.99.
About Cell Phone Accents –
CellphoneAccents.com began conducting business in 2004 with one simple goal in mind; to help people personalize their cell phones. They recognized that while individuals had different fashion senses from one another, the major cell phone manufacturers were producing cookie cutter phones. With that goal in mind, CellphoneAccets.com has amassed a huge inventory of designer cell phone cases, cell phone faceplates and cell phone chargers. With over 45,000 unique accessories in stock, CellphoneAccents.com makes it easy to express your cell.
# # #