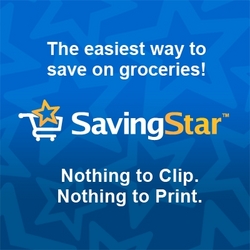 The addition of Kroger to the SavingStar network of retailers increases the number of grocery and drug stores offering their customers digital coupons through SavingStar to more than 24,000 stores nationwide. - David Rochon, CEO, SavingStar
Waltham, MA (PRWEB) April 28, 2011
SavingStar, the only national paperless grocery coupon service, announced that Kroger, the country's largest supermarket retailer, will now offer its shoppers the ability to redeem SavingStar eCoupons when they use their Kroger Plus Card at checkout. The addition of Kroger to the SavingStar network of retailers increases the number of grocery and drug stores offering their customers digital coupons through SavingStar to more than 24,000 stores nationwide. SavingStar launched last week to provide shoppers with an easier way to save on brand name items without the need to clip or print paper coupons by selecting eCoupon offers on the web at savingstar.com and through the SavingStar app on iPhone® and Android® smartphones. SavingStar currently features more than 50 eCoupons on brands such Heinz, Hidden Valley Ranch, Welch's, Clorox, and Gorton's.
"In today's digital world, many shoppers want to save on groceries but don't have the time or desire to print or clip paper coupons. SavingStar makes it easy and convenient for people to save money on groceries with a service that fits their lifestyle," said David Rochon, CEO of SavingStar. "Kroger shoppers can now get additional savings from SavingStar by selecting eCoupons online or through their smart phones - even while walking the aisles in the store."
SavingStar is the only nationwide digital coupon service and works in all 50 states through more than 100 retailers, allowing users to choose where they get their savings. The addition of Kroger to the SavingStar network means that SavingStar eCoupons now work at 16 chains owned and operated by Kroger including Ralphs, King Soopers, Smith's Food and Drug, Fry's and Fred Meyer.
How it Works
SavingStar is free and easy to use. Users register their existing grocery and drug store loyalty cards, such as their Kroger Plus card, with SavingStar one time only. Shoppers choose which eCoupons they want and when they use their store loyalty card at checkout, the money is automatically added to their SavingStar accounts (rather than being deducted at the register). SavingStar is the only eCoupon service that lets consumers choose how they get their savings. Users can select a deposit into their bank or PayPal account, an Amazon gift card, or a donation to the charity American Forests to help plant trees. More payout options will be introduced in the coming months.
About SavingStar
SavingStar is the first and only national, fully digital, grocery coupons service, available for free at savingstar.com and on iPhone® and Android® mobile apps. The company enables consumers to choose where they shop and how they save. Providing exclusive eCoupons redeemable at over 24,000 stores, SavingStar's eCoupons are linked to customers' grocery and drugstore loyalty cards and offer a more convenient and eco-friendly way to save on groceries than paper coupons. SavingStar automatically adds the value of each eCoupon redeemed into the user's SavingStar account, enabling the consumer to pick their payout from cash back to gift cards to charity donations. SavingStar also powers Upromise Grocery eCoupons, helping its over 13 million members save for college. SavingStar is backed by Flybridge Capital Partners, First Round Capital, and other investors. The company is based in Waltham, MA.
###