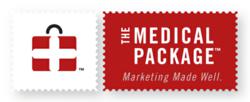 We learn all we can about our clients before we start the creative; it makes for much better medical branding.
St. Louis, MO (PRWEB) April 29, 2011
The Medical Package® today announced its expansion into St. Louis and the surrounding areas. To lengthen its reach while still providing the attentive service its clients count on, the creative agency has chosen Christa Balog, a mainstay in the medical device sector, as its new Director of Marketing Development. Managing Partner Laura McCaskill said, "Our future clients in St. Louis and beyond will soon be as thrilled as we are to have Christa connecting The Medical Package with companies in the medical industry."
Balog brings long-term regulatory experience that the full-service medical marketing company will use to better serve clients, particularly start-up businesses that will benefit from her ability to accurately analyze the medical market landscape. "Christa's track record shows she knows how to effectively interface with clients one-on-one, discovering the details that reveal their specific needs. That makes her a great fit for The Medical Package, because we've always focused on truly understanding the businesses we serve; it helps us carve out a big space in the market for clients, even if they aren't quite sure what they need to stand out," McCaskill said.
With an extensive marketing background formed in the medical device sector, Balog's professional history in market analysis has primarily focused on product development activities—from the earliest stages of identifying markets through evaluating post-launch market acceptance. She specializes in building extensive market data repositories and studying the relevant thoughts of medical opinion leaders, decision-makers and end-users. Balog stated, "Staying on top of the latest medical data and opinions helps me define and validate the marketing requirements The Medical Package needs to reach our clients' business objectives."
Balog added that her knowledge of U.S. Food and Drug Administration (FDA) marketing guidelines and the complex medical device regulations under the FDA 510(k) process lets her help protect clients from costly mistakes. She sharpened her thorough understanding of such regulations when leading cross-functional teams in undertaking 510(k) submissions and authoring submission materials.
Executive Creative Director Steve Popp—who has decades of experience with brands like MARS, PepsiCo/FritoLay and Tyson Foods—can't wait to start working with Balog. "You realize right away that Christa is a talented, driven marketing development pro. She is a perfect addition to The Medical Package, and all our clients will benefit from her medical branding knowledge," Popp said.
###