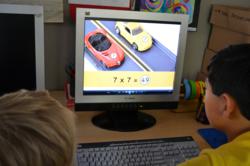 "We offer affordable, reusable DVDs with public performance rights so that schools and libraries can use them without having to pay costly licensing fees."
Carlsbad, CA (PRWEB) April 29, 2011
Released in March of 2011, the approximately 80 minute multiplication DVD was evaluated by a KIDS FIRST! community based jury consisting of child development professionals and teachers as well as parents and children from diverse geographic, socio-economic and ethnic backgrounds before being selected for its double star endorsement. The Steps4Kids to Multiply DVD teaches children their basic multiplication properties and helps them memorize their multiplication table using numbers zero through 12.
"Steps4Kids to Multiply is the company's fourth instructional DVD and was created with narration and music appropriate for educational settings such as classrooms and homeschool instruction," says Steps4Kids founder Lucile Lynch. Steps4Kids was founded in 2005 to create instructional DVDs for home and school use. The company's first DVD, released in 2007, used video modeling to teach handwriting and earned "DVD of the Year" from Creative Child Magazine and was selected as one of the "10 Best Audio Video Products" by child development expert, Stevanne Auerbach, Ph.D. (a/k/a Dr. Toy).
Each number can be accessed directly and after a brief review of the times table, multiplication equations are introduced in both horizontal and vertical formats using engaging visuals, soothing background music and clear verbal narration. Practice tests are included at the end of each number track to help children develop their mental math or rote memory skills of their multiplication facts. Templates for use with interactive white boards are also included. For select numbers, additional tips are offered to help children recognize patterns and learn strategies to help them remember their answers. Double digit by single digit multiplication is also introduced to help children develop foundational skills to help them with more complex math concepts later.
Lynch, an education advocate and parent of two, has been twice recognized for her work with children by the community advisory committee of the North Coast Consortium for Special Education, a regional education consortium consisting of 14 school districts in the San Diego area.
###