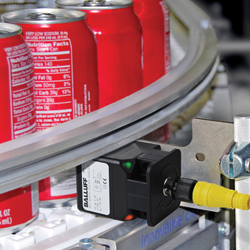 Florence, KY (PRWEB) April 30, 2011
The new Q40 inductive block sensor from Balluff is compact in size, senses at long ranges, withstands hostile environments, and detects various metals.
Balluff developed the Q40 inductive proximity block sensor with Factor 1 technology to solve the most difficult application problems. The Q40 delivers sensing ranges up to 40mm in a small housing, with weld field immunity and the ability to sense aluminium and steel at the same distance. Each Q40 sensor head can be mounted in five positions and has highly visible corner LED's. The connector outlet is also adjustable within a 270° range.
Although the factor 1 sensors are the first choice for hostile welding applications due to their PTFE coated sensing face and immunity to magnetic fields, this sensor is also suitable for other applications where the sensor needs to perform no matter what the type of metal target material.
Balluff's Factor 1 Q40 Block sensors are specifically designed with multi-metal functionality in mind. An example of this would be a packaging line where cans of various sizes and/or materials are being run on the same line. Aluminium cans are a difficult target to detect due to their thin walls and low inductance. The Factor 1 Q40 sensor not only detects the cans as they backup in the accumulator, but it also detects the cans at a distance much greater than a standard tubular proximity sensor. Additionally the switching and operating state of the sensor can be identified far away due to the highly visible LED.
In addition to the Q40 block sensor, Balluff offers various Factor 1 and Factor 1+ sensor options combining multi-metal sensing with the longest range of all the standard sensor sizes.
See Balluff's complete inductive proximity sensor line at http://www.balluff.com/inductive
Editors: To download the high resolution press image, click here:
http://www.balluff.com/Balluff/us/NewsChannel/Press+Releases/en/2011-04+Q40+Inductive+Block+Press+Release.htm?pr=20110428Q40
Balluff Inc., the U.S. subsidiary of Balluff GmbH, Neuhausen, Germany, is a leading manufacturer of a wide range of inductive, photoelectric, vision, capacitive and magnetic sensors as well as linear position transducers, RFID systems, and networking products. Balluff products for OEM and factory floor solutions are used to control, regulate, automate, assemble, position, and monitor manufacturing, assembly, and packaging sequences for industries including: metalworking, automotive, plastics, material handling, wood processing, aerospace, alternative energy, medical, electrical, and electronics.
Editors: please contact Kelly Panko at 1-800-543-8390 for clarifications and additional information e-mail kelly.panko(at)balluff(dot)com
Direct reader service inquiries to: Kelly Panko, Balluff Inc, 8125 Holton Drive, Florence, KY, Phone 1-800-543-8390, or http://www.balluff.com
In Canada only, contact Norman J. Clarke, President, Balluff Canada, 2840 Argentia Road, Unit # 2, Mississauga, ON L5N 8G4, Phone 1-800-927-9654 or Tel: 905-816-1494, 905-816-1411, E-mail: balluff.canada(at)balluff(dot)ca
###