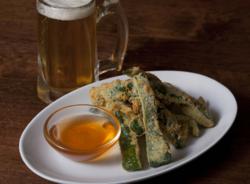 "I like to surprise people with flavors, textures, new interpretations of standard dishes, and whimsical presentations achieved with skill and balance. My food is personal." --Chef Neil Stuart
Ojo Caliente, NM (PRWEB) April 28, 2011
If you've been to New Mexico, you know the question: green or red? Of course, this is referring to the state's notorious culinary specialty, green and red chile. In the Land of Enchantment, chile is a staple, something added to almost any dish. Green chile fries are particularly popular, but Chef Neil Stuart at Ojo Caliente Mineral Springs Resort & Spa's Artesian Restaurant has a new, quite literal take, on an old favorite.
Stuart, known for his straightforward approach to local, Southwestern flavors, uses poblano green chiles themselves—cut lengthwise and coated with flour, egg wash and potato flakes—to create "fries" that are accompanied by an Asian-inspired dipping sauce.
"I like to surprise people with flavors, textures, new interpretations of standard dishes, and whimsical presentations achieved with skill and balance," says Stuart. "My food is personal."
GREEN CHILE FRIES with Hot 'n Sweet Vinegar
Poblano Chiles:
Cut in half, lengthwise, seed, and cut into ½ inch wide strips lengthwise.
Breading Procedure:
In succession: coat chile strips with Wondra Flour, Egg Wash (whole eggs whipped with a little water), Potato Flakes (Instant Mashed Potato Flakes). Be sure to really press the chiles into the potato flakes to coat well.
Cooking:
In a deep pot heat canola oil to 350 degrees, and fry in small batches, being careful not to overcrowd, for about 45 seconds or until you see the breading turn a light brown. Drain on paper towels and serve with dipping sauce.
Hot 'n Sweet Vinegar:
1 Cup Seasoned Rice Wine Vinegar
1/3 Cup Granulated Sugar
2 Tbls. Sambal Oelek (Oriental Chile Paste)
Place ingredients in a sauce pan, bring to a simmer so that sugar will dissolve. Remove from heat and chill before serving. Sugar and chile paste may be adjusted to personal taste.
Beer and wine pairing:
Stuart recommends pairing a local beer, such as the Santa Fe Pale Ale, with the fries. For wine lovers, the Saint M Reisling is just right.
Nestled in a valley west of the Sangre de Cristo Mountains, Ojo Caliente's Artesian Restaurant competes easily with the best of the culinary giants in Santa Fe, one hour south. Culinary Institute of America trained Chef Neil Stuart has created a menu of flavorful Southwestern and global items based on locally grown foods served in the charming historic hotel building which features an intimate wine bar. The art of Joyce Bowie Scott—watercolor, printmaking and oil featuring the local landscape—adorns the walls of the building, which was erected in 1916.
Ojo Caliente Mineral Hot Springs Resort & Spa's legendary waters have been have been healing mind, body & spirit naturally for centuries. For more information on Ojo, Artesia Restaurant or Chef Neil Stuart, call 800.222.9162 or go here.
For press inquiries, call Jennifer Hobson at JLH Media: 505 603 8643 or email Jennifer(@)jlhmedia.com
http://www.ojospa.com
###