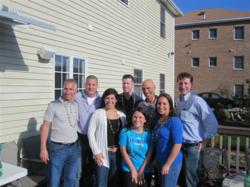 "Boot camp not only helped me change my body, but my confidence level went up. Working out with John and the fellow boot campers helped change my life," comments Shannon McGurrin
Boston, MA (PRWEB) April 29, 2011
John Wayman, owner of Beantown Bootcamp, Boston, MA and a Boston A-Lister watched as 9 members who trained for the Boston Marathon at Beantown Bootcamp cross the finish line! "It was an unbelievable accomplishment given the weather in which they trained". In addition to this accomplishment, 3 additional members qualified for the Boston Marathon at the Chicago Marathon.
This January Beantown Bootcamp was voted the number one boot camp in the city of Boston by Boston A List. Boston A List is one of the largest social networks in Boston that compiles the best of what the city has to offer. Beantown was chosen as the best boot camp in Boston by over half the total voters! John's success during the training for the Boston Marathon this year is evidence of the work that is done every day.
John Wayman's diverse work outs include heart pumping cardio cross circuits mixed with strength and agility training. His methods produce results, catching the attention of Bostonians. Beantown Bootcamp members are beginners, brides who want to look buff, moms who want their bodies back and athletes training for the Boston Marathon and many other organized sports athletes. Recently, John became the official trainer of the Boston Bruins® Ice Girls who participate in John's Cardio and Strength Training Classes regularly.
Beantown Bootcamp is also making its presence felt in the community. "We believe that giving back to the community is an obligation." This past year Beantown Boot camp held its first event, "Beantown Bootcamp Stomping Out Childhood Obesity." All proceeds went to the Nazzarro Community Center. The members of Beantown Bootcamp raised money for at risk youth, and adopted families during the holidays.
Wayman's classes are tough, but encouraging. He believes in his clients and pushes them to reach their potential as athletics and people. "Boot camp not only helped me change my body, but my confidence level went up. Working out with John and the fellow boot campers helped change my life," comments Shannon McGurrin, a two year member.
John is an entrepreneurial fitness guru who motivates the masses to get in shape and enjoys doing it. He's not just a fitness instructor, he lives and breathes this life style and derives extreme enjoyment from running through the streets of Boston pushing a baby carriage with a radio strapped to it, yelling "You will be in the best shape of your life!" Take one class from John and there will be no doubt to that truth.
###