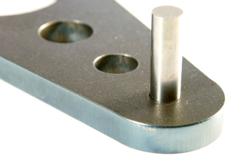 Florence, SC (PRWEB) April 30, 2011
ESAB Welding & Cutting Products introduces an important new capability for its CNC plasma cutting machines.
ESAB CNC plasma cutting machines are now available with Precision Hole Technology, an integrated set of systems that improve hole cutting cylindricity as well as delivering the highest possible edge quality. This new system takes advantage of the advanced gas control capabilities already available in ESAB's m3 Plasma™ systems by capturing the best hole cutting techniques in ESAB's new Columbus.NET programming software. Precision Hole Technology also utilizes ESAB's unique encoder-based height control, as well as the VISION 5x series of CNCs. This new technology is available on new ESAB cutting machines and can also be retrofitted on many existing ESAB machines in the field.
The new Precision Hole Technology represents a significant engineering development encapsulated in a new process control database. This database is used by ESAB's Columbus.NET programming and nesting software to automatically produce the highest quality plasma cut holes on mild steel up to 1" thick, for hole sizes down to 1:1 ratio without manual intervention. The database is also used in ESAB's new VISION T5 CNC, where it automatically processes any part program created through the EasyShape™ library with optimum small hole quality. This includes DXF and DWG files imported right at the VISION T5 CNC, as well as nests. Building this technology into both the off-line programming software as well as the new CNC gives ESAB customers the flexibility to quickly and easily produce the highest quality plasma cut holes.
An important part of Precision Hole Technology is the automatic height control system that sets and maintains the optimum torch height during hole cutting. ESAB's PB-MB-1 Plasma Station features an encoder that accurately measures the torch height as it retracts from the plate. The CNC uses this distance information to maintain the proper height while cutting a small hole, without relying on arc voltage. This eliminates the effects of arc voltage delay, electrode wear, and slug dropouts, which all affect the shape of the hole. The plasma station also includes a pneumatically balanced tool-tip sensor for the lightest possible touch, backed up by an electrical clear-the-plate feature for the most accurate initial height sensing.
ESAB's m3 Plasma system features an automatic gas control that has always had the capability to mix and switch shield gases as required. The Process Database built in to the VISION T5 CNC is now expanded with the additional data required for small hole cutting. The required data is embedded automatically, either by the Columbus.NET software or by the EasyShape™ library. Operation is simplified, and no special operator intervention is required to take advantage of this feature.
ESAB Welding & Cutting Products is one of the world's largest and most knowledgeable manufacturers of welding and cutting equipment and welding filler metals. Recognized as the technological leader in the industry, ESAB is committed to providing customized solutions for its customers. For more information on these products, visit http://www.esabna.com, http://www.esabcutting.com or call 1-800-ESAB-123.
# # #