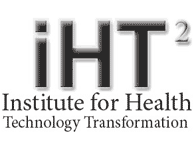 mHealth is changing the delivery of healthcare dramatically as it enables patients and providers and payers and pharma and others to communicate anytime, anywhere, thus contributing toward participatory health, aka patient-centered care
New York, NY (PRWEB) April 28, 2011
The Institute for Health Technology Transformation announced today the speakers for their panel session entitled, "Remote Patient Monitoring, Telehealth & More" at the Institute's Health IT Summit in Ft. Lauderdale taking place May 10-11, 2011 at the W Fort Lauderdale.
The panel will be moderated by Gienna Shaw, Senior Technology Editor, Health Leaders Media, and speaking will be Scott Simmons, MS, Director of Telehealth, University of Miami TeleHealth; Claudia Tessier, President, mHealth Initiative; and James Bolling, MD, Director, Digital Imaging, Mayo Clinic.
The panelists will be addressing a wide range of topics including: how remote patient monitoring, telehealth and other technologies are changing delivery of care for both the patient and provider, as well as what initiatives your organization should be planning for today.
"The mHealth revolution is here," said Claudia Tessier. "mHealth is changing the delivery of healthcare dramatically as it enables patients and providers and payers and pharma and others to communicate anytime, anywhere, thus contributing toward participatory health, aka patient-centered care."
The iHT2 Health IT Summit in Ft. Lauderdale is the premier executive summit focused on the strategies and tools that are re-defining customer care, collaboration and efficiency in the health care provider markets.
Sponsors and Partners for the 2011 Health IT Summit in Ft. Lauderdale include: Apixio, Catalyst Solutions, Cerner, DICOM Grid, DSS, EDIMS, Informatics Corporation of America (ICA), Intel, Elsevier/MEDai, LG CNS, MMR Information Systems, Microsoft, Proofpoint, RelayHealth, AMDIS, Broward County Medical Association, CMIO, Dade County Medical Association, eHealth SmartBrief, Executive Insight, FierceHealthIT, Frost & Sullivan, HIMSS South Florida Chapter, IDC Health Insights, MarketsandMarkets, ReportsandReports, SearchHealthIT.com, South Florida Hospital & Healthcare Association, South Florida Technology Alliance, and South Florida Hospital News and Healthcare Report.
About the Institute for Health Technology Transformation:
The Institute for Health Technology Transformation is the leading organization committed to bringing together private and public sector leaders fostering the growth and effective use of technology across the healthcare industry. Through collaborative efforts the Institute provides programs that drive innovation, educate, and provide a critical understanding of how technology applications, solutions and devices can improve the quality, safety and efficiency of healthcare.
http://www.ihealthtran.com
###