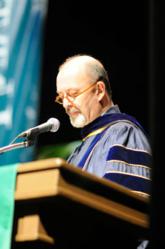 Dr. Neal King will be joining a community of distinguished professionals, dedicated to the intersection of psychology and spirituality.
Palo Alto, CA (PRWEB) April 29, 2011
The Institute of Transpersonal Psychology in Palo Alto, CA (ITP) is pleased to announce the appointment of Dr. Neal King who will assume leadership on May 2, 2011 as ITP's 11th president. A comprehensive national search yielded a group of diverse and highly accomplished candidates, from which Dr. King was selected.
Dr. King is a psychologist by training, having completed his graduate studies at UC Berkeley. Prior to joining the ITP community he was President of Antioch University, Los Angeles. With extensive experience as a psychologist in private practice in Northern California for fourteen years, he will be returning to his discipline and joining a community of distinguished professionals who are dedicated to the intersection of psychology and spirituality, a focus he says, "resonates deeply with me both personally and professionally".
Dr. King has served in a variety of faculty and administrative positions in non-profit, public and private, for-profit and state settings in addition to serving as a volunteer consultant for three of the six regional accrediting bodies for higher education in the United States, including the Western Association of Schools and Colleges (WASC). He was recently asked by WASC to join their Eligibility Review Committee.
Dr. King is currently Secretary-General-elect of the International Association of University Presidents (IAUP) and has recently been a member of IAUP's delegation to the launch of the United Nations Academic Impact Initiative and to the World Innovation Summit for Education (WISE 2010) in Doha, Qatar. He was appointed as a commission member of the IAUP and United Nation's Commission on Disarmament Education, Conflict Resolution and Peace. The IAUP/UN Commission was founded in 1990 and its overall mission is to "promote peace in our global society; to promote a more equal distribution of wealth and social conditions; and to promote tolerance, mutual understanding, and respect." Commission members consist of representatives from colleges and universities from around the globe.
Dr. King is also a founding member and member of the steering committee of LGBTQ Presidents in Higher Education, and has recently been appointed to the Executive Board of California Campus Compact.
Dr. King's vision of leadership emphasizes collaboration, transparency, academic quality, shared governance, and open communication with the campus community. His ongoing dedication to social activism and community building resonates deeply with ITP's core educational mission and values.
For over three decades, the Institute of Transpersonal Psychology has developed its unique blend of training, research and community outreach.
Founded in 1975, ITP began as a groundbreaking center for integrative, whole-person learning and training. Today, the Institute is a leader in transpersonal research and education of clinicians, spiritual guides, wellness caregivers, and consultants. The Institute's stimulating and transformative educational paradigm, valuing the mind, body, spirit connection, attracts students from all over the world to both residential and distance-learning programs.
In addition to its graduate education programs, ITP operates the Community Center for Health & Wellness (CCHW), a professional counseling center and training facility offering quality services at an affordable sliding scale fee to the surrounding community. The CCHW combines contemporary psychotherapy with values that honor the mind, body, & spirit. The CCHW offers holistic programs for individual psychotherapy, couples and family therapy, spiritual guidance, health counseling, and the treatment of trauma.
Institute of Transpersonal Psychology Academic Programs:
Residential Programs (Offered on-campus in Palo Alto, California)
Psy.D. in Clinical Psychology
Ph.D. in Transpersonal Psychology
Master of Arts in Counseling Psychology (full-time daytime)
Master of Arts in Transpersonal Psychology (part-time evening)
Master of Arts in Counseling Psychology (part-time evening)
Global Online Programs (Study from any location in the world in an online environment)
Ph.D. in Psychology
Master of Transpersonal Psychology
Certificate in Transpersonal Studies
Low-Residency Programs (Hybrid online with minimum campus requirement)
Master of Arts in Counseling Psychology
Master of Arts in Spiritual Guidance
Master of Arts in Women's Spirituality
###