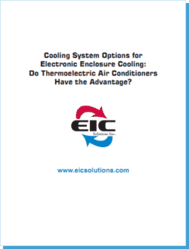 Warminster, Pa (PRWEB) April 29, 2011
EIC Solutions has recently made a new, informative white paper available on their site. This white paper, "Cooling System Options for Electronic Enclosure Cooling: Do Thermoelectric Air Conditioners Have the Advantage?" discusses four popular options for cooling electronic/electrical equipment housed in enclosures and cabinets.
The cooling options reviewed in the white paper include thermoelectric air conditioners, compressor-based air conditioners, vortex coolers, and air-to-air heat exchangers (heat pipes). Each cooling method is explained and the advantages of thermoelectric air conditioners are examined as compared to the other cooling methods.
The white paper includes diagrams explaining the cooling process of each cooling option, and a full chart highlighting the pros and cons of each option with categories including portability, size, and associated costs. The white paper is available at no cost and can be printed for future reference.
More information about EIC Solutions, Inc., their product lines, and their dedication to protecting sensitive electronics can be found online at http://www.eicsolutions.com.
About EIC Solutions, Inc.
EIC Solutions, Inc., specializes in the design and manufacturing of thermoelectric cooling systems, air conditioned electronic enclosures, and transit cases for a wide range of applications. Our products have been used in a variety of enclosure cooling applications involving the protection of electronic equipment both indoors and outdoors. Dedicated to protecting customer's investments in computers and sensitive electronics, EIC provides innovative solutions and superior service. We are committed to providing the highest quality products and to serving our customer's needs quickly and efficiently. If you have questions regarding any of our products please contact us at 800-497-4524 or visit our website at eicsolutions.com.
###