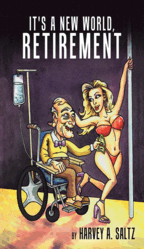 Along with the laughter, Harvey offers readers a sobering look at some of the issues that retirees face each and every day.
Los Angeles (PRWEB) April 29, 2011
In 2004, author Harvey A. Saltz decided to end the busy day to day 24-hour/7 day a week hustle and bustle of his life and enter bravely into the unknown. In other words, he retired.
His new book, It's a New World, Retirement (published by AuthorHouse), is a collection of stories, anecdotes and general musings that will make just about any reader come away with a smile on their face. Within its pages, readers will entertained by Harvey's take on many subjects including, 60th anniversary class reunions, health care, growing old with grace and even sex. Harvey has a good natured attitude and wit that will brighten just about anyone's day. An excerpt from the book:
Talk about planning in your retirement, I think I have to do that and start thinking of my final resting place. I suspect I only have another twenty-six years to go in this life. Because of the longevity gene that appears to run in my family, I expect to live to ninety-eight years of age. I'll have to talk it over with Carmen and see if we should be buried next to each other. I think it will be nice to spend eternity with her. I don't know yet if she feels the same. My ex-wife, Jackie, doesn't want be in the same room as Carmen, so the Devil in says for Carmen and I to both be buried next to [my ex-wife]. Oh well, so much for "eternal peace".
Along with the laughter, Harvey offers readers a sobering look at some of the issues that retirees face each and every day. He also takes time to introduce some of the people who mean the most to him, his good friends, companions and helpers, such as his children, massage therapists and Carmen, his close companion of 17 years.
It's a New World, Retirement makes an excellent gift to a parent or grandparent, retiring co-worker or anyone who simply likes to laugh and look at the world through the eyes of someone who sees life from the lighter side of things.
About the Author:
Harvey A. Saltz was born in New York City, later moving to California at the age of 10. As a young man, he toiled at a number of jobs, later joining the Air Force where he was a radar technician, a computer technician and then a Technical Instructor for computers. After the Air Force, Harvey worked in the aerospace industry and as a technical writer. After law school, Harvey served as Deputy District Attorney for the County of Los Angeles until he decided to enter private practice. He later started an entire new industry within the credit reporting field and ran a credit reporting business until he retired. He is a family man with two children, two grandchildren, an ex-wife with whom he is on good terms and a long time lady friend may be his next wife, or not. His only flaw (so he thinks) is that he could never stop joking around, no matter what.
###