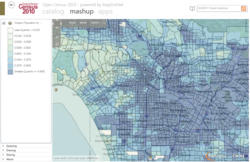 Through the online data feeds and APIs, software programmers can easily consume the Census 2010 data in their applications
Tallahassee, FL (PRWEB) April 29, 2011
ISC is pleased to announce OpenCensus2010.com, a new online interactive mapping and data service portal for visualizing, analyzing and developing with the United States Census 2010 data. The portal is freely available for the public to explore Census 2010 datasets on an interactive map. The initial offering includes demographic data at the state, county, place, tract and block group levels. With OpenCensus2010.com, users can interact with and perform ad hoc spatial queries against data for the entire US. Additionally application developers can access the Census 2010 data through online APIs that include Open Geospatial Consortium Web Map Services (OGC WMS), REST map tiles and OData feeds.
As the developer of the MapDotNet UX GIS server platform, ISC has been offering tools to help developers build world-class web and desktop mapping software for over nine years. This is the company's first foray in the data-as-a-service market.
"Through the online data feeds and APIs, software programmers can easily consume the Census 2010 data in their applications," said Brian Hearn, MapDotNet Lead Architect. The OpenCensus2010.com is built on the open source Open Intel project and is completely deployed into the highly scalable Windows Azure environment. "With SQL Azure and Windows Azure, we were able to stand up this solution within a matter of days," added Hearn.
Developers can download the MapDotNet-based Open Intel solution from Microsoft's CodePlex to begin accessing the Census data immediately. Over the next few months ISC has plans to add the American Community Survey data and more predefined indicators from the 2010 Census data.
For more information please visit: http://www.opencensus2010.com
# # #