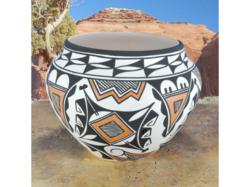 Video help us to represent our items as truthfully as possible. If a picture can speak a thousand words, then a video can speak a million words!
Oakton, VA (PRWEB) April 29, 2011
Turquoisecanyon.com, a top internet sales store for handmade Native American jewelry, has discovered that it's never too late to add videos to product descriptions; increasing product exposure and customer value.
Owner Gerry Warwick explains how video slowly became part of their web store. "We began dabbling in video a few months ago and the reaction was very positive. People really enjoyed being able to see an almost 3D depiction of our jewelry and pottery," Gerry says of the store's entrance into video descriptions. "Initially we thought it would be too complicated and too expensive. However, with a little setup work, it's become quite easy!"
Turquoisecanyon.com now adds video for items where text and pictures simply don't capture the value and craftsmanship represented in the piece. Pottery is a good example of this. "Pottery tends to have so much detail, and incredibly intricate designs; all wrapped around a large surface. We found that even 10 pictures can't show what a single video can," Gerry says. "We receive noticeably fewer questions for items with video than for ones without. Although it takes more time to get video descriptions completed versus descriptions with just text and pictures, we feel that it saves time in the long run, and helps us to represent our items as truthfully as possible."
Anticipating that more customers will be able to quickly and easily access videos online, Turquoisecanyon.com will continue to add video to the descriptions of Native American jewelry, pottery, and kachinas available on its web store. "Not too long ago video files were considered only accessible for customers with high end computers and expensive internet connections. However, today almost all of our customers have access to inexpensive PCs, laptops, iPads, and even cell phones that can deliver video almost as quickly as pictures," Gerry continues. "It makes sense that we enrich our descriptions and help customers understand what they are viewing before deciding to purchase."
An example of a video description can be found in the description of an Acoma Pot hand crafted by Acoma artist D Victorino: click here to view.
Turquoisecanyon.com opened its store in 2005 and specializes in enjoying the artistry and skill of all things Native American. From Native American Indian jewelry to kachinas and pottery, Turquoisecanyon.com continually seeks to find Native American artists that represent both a classic and a modern view of Native American jewelry and culture. TurquoiseCanyon.com offers only the highest quality genuine Native American hand crafted items, each with a certificate of authenticity.
# # #