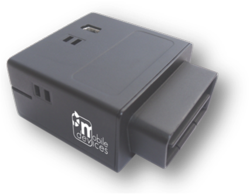 The C4 and Dreevo range of devices opens up a brand new world of opportunities. Insurers can now integrate their customers' MRM applications quickly and cheaply, and add value services immediately.
Paris, France (PRWEB) April 29, 2011
This new update on the successful C4 series includes the C4evo blackbox and the C4 Dongle for self-installed solutions.
With ARM11 chipset, 64 Mb RAM, 256Mb NAND Flash memory and Fakra connectors, the new C4 devices are not only small, tough and extremely reliable, but their value is unbeatable considering the technology used and the range of services they enable.
The C4evo blackbox is equipped with built-in accelerometer ready for SVR, tracking and fleet management, as well as driver profiling and crash detection.
The C4 Dongle is a self-installed device specifically designed for the insurance market that includes both GPS and GPRS for location and communication as well as an accelerometer for driver scoring, crash detection and accident data capture.
Crucially, the C4 range runs Morpheus3 OS, the Open Telematics OS, and comes with its own SDK and 3,000+ APIs offering integrators and content providers complete control to build their applications into the box and adapt their service packages according to customer specification. Once on the road, the devices can still be tuned OTA and new applications can be downloaded directly onto the devices.
The C4 range is compatible with any peripheral running the Morpheus3 OS, giving insurance telematics service providers a unique competitive advantage: the ability to add a touchscreen to their solution portfolio. Insurance companies can now offer customers a wider range of options from basic driver scoring, to full driver assistance packages including navigation, traffic, speed alerts, etc.
Cyril Zeller, VP Sales & Marketing, commented: "The C4 and Dreevo range of devices opens up a brand new world of opportunities. Insurers can now integrate their customers' MRM applications quickly and cheaply, and add value services immediately."
Mobile Devices' solution has been the key factor in more than 400 successful bids over the last nine years with size, performance, reliability and – above all – low price, consistently being the winning criteria. Most recently, these criteria have become the key factors in Mobile Devices' success in the insurance telematics market.
For prices and more information, contact thomas(at)mobile-devices(dot)com
Mobile Devices delivers a leading Open Telematics Operating System for a wide range of devices and solutions targeting both the consumer and fleet markets. Mobile Devices is also a leading provider of next generation connected navigation devices, smart displays, dongles and black boxes, all running Morpheus3 open telematics OS.
The company has more than 200,000 units deployed in more than 40 countries worldwide, and a growing army of more than 2,000 developers on its Open Telematics platform. (http://www.mobile-devices.com)
###