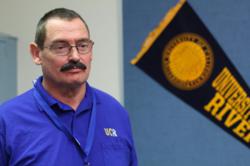 "I was moved and changed as a person and as a leader by this very intense examination of how the place works from the ground level. My decisions as a chancellor will be more thoughtful because of this experience."
Riverside, Calif (PRWEB) April 28, 2011
Chancellor Timothy P. White, who has served as UC Riverside's highly visible chief executive for the past three years, crops his hair short and dons a mustache, false teeth, and earring for the season finale of Undercover Boss on CBS this Sunday.
He takes on the everyday work of a track coach, a chemistry professor, a campus tour guide and a staff member in the science library at the 20,000-student campus. In the process, he said, he was changed as a chancellor.
This is the first time a university campus has ever been featured on the Emmy-nominated show. The UCR episode will be the season finale, airing in prime time at 9/8 c. Sunday, May 1 on CBS.
"Seeing the campus from the inside out only strengthened my respect for the way a public research university changes lives and creates value every day," White said. "I was moved and changed as a person and as a leader by this very intense examination of how the place works from the ground level. My decisions as a chancellor will be more thoughtful because of this experience."
###