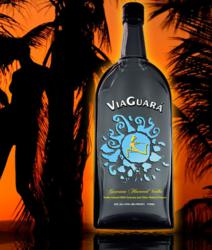 "The secret is to infuse the guarana and ginger at just the right level", said Mirek, "we wanted it to be a hint in the background without being too overpowering. We were so pleased with our discovery, we knew we had crafted something very special."
Las Vegas, Nevada (PRWEB) April 30, 2011
ViaGuará US Inc., proudly announces the flagship debut of ViaGuará brand, Guarana Flavored Vodka, in the US. ViaGuará is the embodiment of over 500 years of deep rooted East European vodka tradition with the first of its kind to empower the subequatorial spirits of tradition and lore of natural Brazilian guarana and Madagascar ginger. ViaGuará vodka is a triumph of craftsmanship that delivers an unparalleled superlative taste.
ViaGuará is the quintessence of a very old and very proud vodka heritage combined with the warmth and taste of the tropics. The revelation of infusing vodka with guarana and ginger was discovered in part by Mirek Wierzbowski, Val Kranski, and Robert Kobylarz, three friends who grew up in Poland sharing common passions, two of which are fine vodka and world travel. Within their explorations they discovered Brazilian guarana. The fourth gentlemen, Steve Dec introduced the three to ginger that would eventually become the second key ingredient to their vodka infusion, and became a partner therewith.
Brazilian guarana, a South American berry that has a light, fruity flavor, and Madagascar ginger oil brings the distinct warmth of spice. The friends discovered their formulation of these paramount ingredients in the vodka distilling process imparted premium vodka with a distinctively warm memorable flavor reminiscent of the tropics. "The secret is to infuse the guarana and ginger at just the right level", said Mirek, "we wanted it to be a hint in the background without being too overpowering. We were so pleased with our discovery, we knew we had crafted something very special."
ViaGuará US didn't stop with the superlative taste. They went to great lengths to use a free flow gray amethyst glass bottles that turns blue in the freezer. The prestigious bottle, with its hot foil stamp metallic labeling, is absolutely reflective of the premium goodness inside.
Until now, ViaGuara was only produced in Poland. ViaGuará US is distilled and bottled at historic Lawrenceburg Distillers Indiana, one of the world's best performing and oldest independent distillery's in the United States with more than 100 years tradition. Along with the precise standards of European vodka heritage, and the unique tropical blend of guarana and ginger, ViaGuará Guarana Flavored Vodka is an unparalleled triumph to a great tasting spirit.
ViaGuará Vodka can be enjoyed in a variety of ways. The ideal method is to appraise its taste chilled. It will definitely add a distinctive twist to your martini or any island concoction. Tasting ViaGuará Vodka on the rocks is a superb way to appreciate ViaGuará Gurana Flavored Vodka flavor.
Product Name: ViaGuará Guarana Flavored Vodka. Volume: 750 ml. Suggested Retail Price: $19.99. Alcohol Content: 40%. Packaging: 12 bottles. Date Available: Gradual release starting March, 2011. Sales Area: Select US Markets.
About ViaGuará US: ViaGuará Vodka is a memorable spirit produced and marketed by the ViaGaurá US Corporation. Crafted from more than 500 years of East European vodka heritage, ViaGuará is the first to employ the advantages of guarana and ginger resulting in a distinctively superlative spirit. ViaGuará is distilled and bottled at historic Lawrenceburg Distillers Indiana, one of the world's oldest and best performing independent distilleries in the United States with more than 100 years tradition. For more information about the ViaGuará, please visit http://www.ViaGuara.us. Please enjoy ViaGuará brand vodka responsibly.
Contact:
Robert Kobylarz - Director
Tel. 702.577.8487
BogdanK(at)ViaGuara(dot)US
ViaGuara US Inc.
3320 West Sahara Avenue, Suite 380
Las Vegas, NV 89101
Tel. 701.686.9679
Operations Office
8785 South Sutton Way
Salt Lake City, UT 84121
# # #